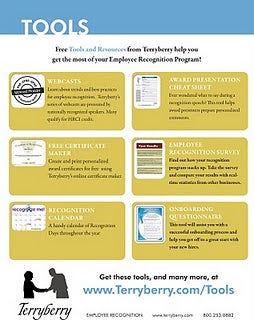 Terryberry adds new features to its growing collection of free recognition tools and resources
Are you looking to grow your company's recognition efforts, find ways to earn HRCI credit, or simply streamline your administrative duties? Terryberry has just the ticket!
Visit
www.terryberry.com/tools
to find an array of free & easy tools and resources, guaranteed to beef up your recognition strategy and stay below budget. New "Recognition Words" listing will help you write a recognition speech or letter, or just give someone positive feedback.
We invite you to "Like" and join us on Facebook. Share your best recognition stories, motivational phrases, and more! Post on our wall and earn a chance to win during our Holiday Book Giveaway. Visit
www.facebook.com/TerryberryCompany
to learn more.