Our customers have requested it and we've heard them out. Terryberry is excited to announce that the 360 Recognition Platform is soon to be fully integrated with the popular workplace collaboration and communication tools, Slack and Microsoft Teams.
The first phase that has officially rolled out and available for customers is 360 Recognition notifications within Slack and Teams. Users and managers utilizing Slack or Microsoft Teams can turn notifications on through their settings in their 360 Recognition platform. This will immediately notify them through Slack or a Teams channel when they receive recognition, receive points, all company announcements, and more. The notifications will include links allowing them to jump directly to the recognition moment or their 360 Recognition inbox within their company's platform.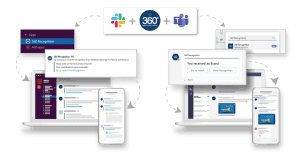 Terryberry's goal with this integration is to make sure each recognition moment reaches employees through the medium they're most comfortable with using. We hope that in doing so, no opportunity to increase the value or a recognition moment is missed. For instance, Managers can also receive Slack and Teams notifications when one of their direct reports is recognized. This is a great way to keep visibility of the great work happening on their team!
We'll keep you up to date on the other Slack and Team phases rolling out throughout the year. Interested in learning about our other 360 Recognition integrations? Click here.