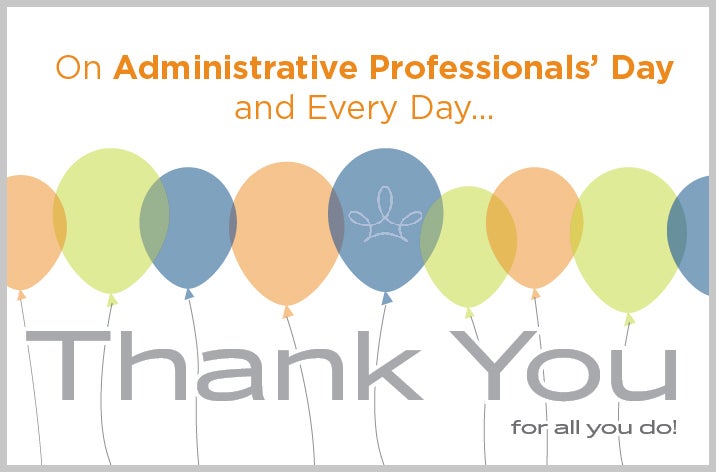 Chances are, the Administrative Professionals in your workplace wear a lot of hats on any given day. They're the office manager, the communications expert, the logistics guru, a diplomat, a problem-solver, and the social chair…all before lunch. On Administrative Appreciation Day, April 27, don't miss the chance to show the admins in your organization how much you appreciate the many ways they make a difference every day.
Looking for ways to say "Thanks" to the Administrative Professionals in your office? Here are Terryberry's Top 5.





1. When You Don't Know What to Choose – Say "thank you" to your Administrative Professionals with a gift they're sure to love…one they can choose. Terryberry's Recognition Collection Gift Catalogs offer scores of brand name items so your recipients are sure to find something they'll love for their Administrative Day gift.
Each gift option in every Terryberry catalog is carefully selected for quality and can be personalized with your company symbol; and Terryberry's customer service is second to none. As a result, you can be confident your gifts will make a positive impression. There are 14 catalogs, each at a different price point. Just contact us and tell us your budget, and we'll do the rest.
2. A Personalized Administrative Appreciation Day Gift – We go the extra mile to make it easy on you and help you make a perfect presentation. Choose one of Terryberry's Presentation Kit Options, which are personalized with an Appreciation Certificate for your recipient and a custom logo gift.
3. Handwritten "Thank You" for Your Administrative Professionals – Keep a RecognizeMe Kit handy and you'll be prepared with a card or reward coupon for any occasion to say "thanks" at work. Give your Admins handwritten Administrative Day thank you cards with a reward coupon for "a free coffee" redeemable the next time they need a pick-me-up. Browse and Order RecognizeMe Kits Online.
4. Need an Epic Administrative Professional's Gift? Something truly extraordinary? Terryberry's got you covered with custom logo jewelry. Our artists hand-craft fine custom jewelry using your corporate logo with diamonds or gemstones of your choice. For your Admin of the Year, consider a custom logo pendant or custom logo cuff links. Watch the video to see how they're made.
5. Show Appreciation from Anywhere– download Terryberry's iRecognize App and send your Admin a personalized Appreciation eCard for free.