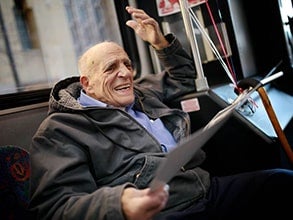 (photo: Salwan Georges, Detroit Free Press)
Recently we  came across a touching story about a man who had worked for one employer for sixty years…yes sixty.
Angelo Fracassa, now 86, began his career with the IRS in Detroit in 2016, reports  Jim Schaefer in the Detroit Free Press story. As Angelo was rounding the corner on his last week before finally hanging up his hat, friends, family and co-workers surprised him by honoring his tremendous career in a unique and special way.
Angelo boarded his bus for home after finishing his day of work like normal.  But on this day, at stop after stop, family members, co-workers and others who had been touched by Angelo's work boarded the bus with balloons and hugs and tears.   The celebration ended with an Italian feast at a local restaurant.
When asked about his career, the humble Angelo said "Well I really, really loved it…I was always able to help all the folks around the building.  So I stayed," reports Schaefer.
Being in the employee recognition business, we get to witness many moments like this one, and it never, never gets old. There are few experiences in life that are better than showing someone how valuable and appreciated they are.  Sincere recognition for a job well done — congratulations Angelo.