With so many HRIS options available, knowing which system is right for you and your company's needs is critical. To help you choose, we've put together a best HCM and HRIS systems list.
What is an HRIS and HCMs?
If you're in Human Resources, chances are you've heard of Human Resource Information Systems (HRIS) or Human Capital Management systems. These tools are growing in popularity, and for good reason. Removing the bulk of administrative work, these programs help free up HR professionals to instead use their time for strategic planning and other more complex areas.
First, let's define exactly what an HRIS and HCM is. As mentioned, HRIS stands for Human Resource Information System and HCM is Human Capital Management.
HRIS Systems
A human resources information system is a software solution that maintains, manages, and processes detailed employee information and human resources-related policies and procedures. These systems were originally developed with fairly basic functionality and were mostly intended for keeping employee records. But as HR needs have developed, so have HRIS systems.
HRIS is now synonymous with connected data management of various HR processes such as benefits, workforce management, payroll, and core HR
HCM Systems
Human Capital Management systems cover every aspect of workforce management. In short, an HCM is more comprehensive than an HRIS. This type of system includes all the features offered by HRIS and adds talent management capabilities to the mix. These include compensation planning, learning and development, succession planning and career planning
HCM systems are commonly used to describe a complete suite of HR applications, built in the cloud, that are designed to improve the employee experience.
An HCM solution today often incorporates digital assistants, AI, and other tools that enable users to collaborate and share information across teams. Additional functionality includes advanced talent management tasks such as performance management, learning, succession planning, and compensation planning.
In addition, business planning capabilities are included such as strategic workforce planning and workforce modeling. HCM covers the range of HR functions, whether they are data-based, transactional, or strategic. It transforms the traditional administrative functions of human resources departments—recruiting, training, payroll, compensation, and performance management—into opportunities to drive engagement, productivity, and business value.
Best HRIS and HCM Systems List
1. BambooHR
BambooHR is a fan favorite amongst many HR professionals. Its easy-to-use interface allows for a quick learning curve and an intuitive user experience. This program is customizable and simple to implement. BambooHR also offers substantial customer support, should you ever need a helping hand.
This solution is ideal for small and growing companies that need an applicant tracking system (ATS), time tracking, payroll processing, employee engagement and employee satisfaction tools, automated reminders, and workforce data analytics to manage all aspects of the employee lifecycle.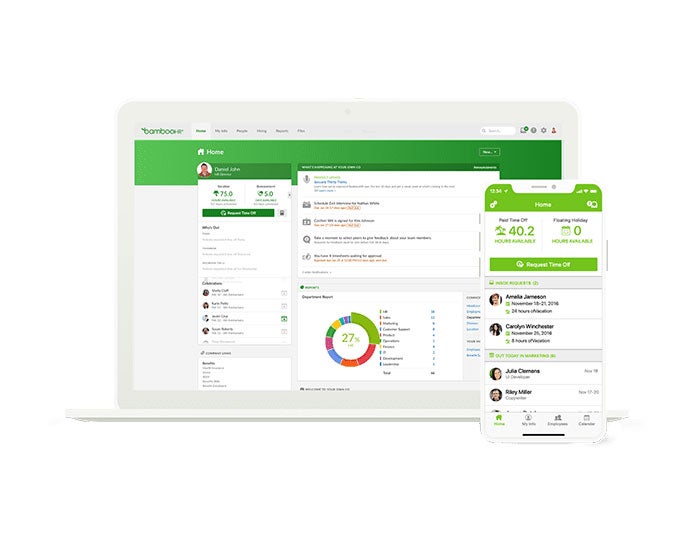 What is it: HRIS
Best for: Small-medium businesses
Key Features:
Accurate reporting
Applicant Tracking System
Centralized Employee Database
Controlled access
Easy to use system
Employee onboarding
HRIS software
HRMS software
Performance Management
Report generation
SMART reminders (performance)
Payroll integration
Pros
Simple layout
Intuitive UX
Easy to manage
Customer Service help available
Customizable
Discounts available for nonprofits
Cons
Some features have basic functionality
No built-in scheduling
"BambooHR is extremely easy for managing employee data, submitting time off requests, creating offer letters, and much more. It is incredibly easy to create candidate profiles and send offer letters, and I like the fact that you can monitor the progress after you send an offer letter out."
2. Workday HCM
Workday HCM helps companies with workforce planning, analysis, and execution. From a modern portal, Workday provides financial and administrative services such as financial planning, HR planning, employee recruitment, payroll processing, and reporting.
While Workday HCM includes a range of human resource management tools, it also offers a module for education. This includes recruiting and admissions, curriculum management, records, advising, and financial aid tracking.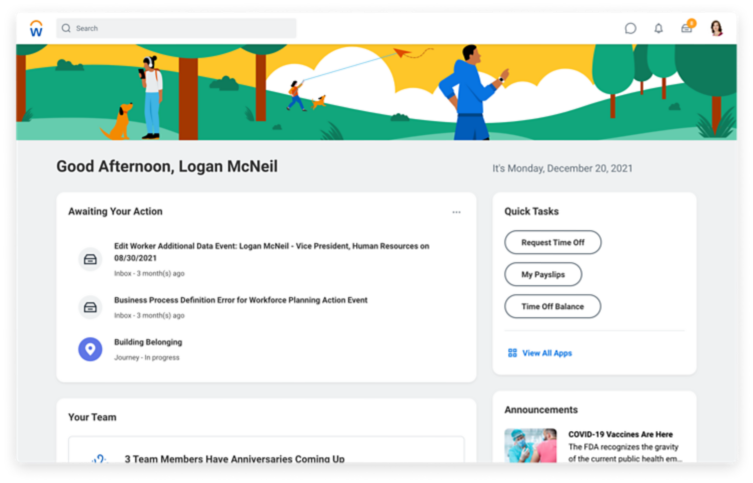 What is it: HCM
Best for: Medium-large businesses
Key Features:
Accounting & Finance
Revenue Management
Reporting & Analytics
Consolidate & Close
Financial Planning
Expenses
Procurement
Audit Tools
HRM
Workforce Management
Recruitment
Talent Management

Onboarding
Performance Management
Time & Attendance / PTO Tracking
Career Pathing
Succession Planning
Learning Management System
Compensation & Benefits
Pros
A one-stop-shop for all things HR
Easy for employee adoption
Simple PTO system
Streamlined payroll system
Cons
Scheduled maintenance can be disruptive
Can be cumbersome to implement
Steep learning curve
"Workday HCM is an intuitive platform...that is low cost, offers excellent features, capabilities, and perfect synchronization with other talent management platforms, LMS, etc. With this platform you can easily access information about employees, talent management, payroll, etc. It is easy to use, I like it because it is a powerful and very complete platform with which I can carry out online training for all my employees."
RELATED: Social Recognition Software: What is it and Why Do You Need it?
3. Oracle Fusion Cloud HCM
Natively built for the cloud, Oracle Fusion Cloud Human Capital Management connects every human resource process across your company. Oracle is a complete solution that covers every human resource process from hire to retire. This solution provides a consistent experience across devices and empowers HR professionals to address company-wide needs.
Oracle Fusion is a cloud-based solution that covers all human resource processes from hire to retire. It provides a consistent experience across devices and empowers HR professionals to address company-wide needs.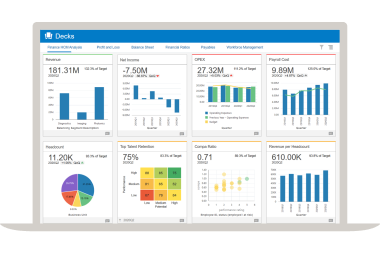 What is it: HCM
Best for: Medium-large businesses
Key Features:
Benefits Provision, Management & Administration
Time-off & Attendance
Social News Feed
Employee Onboarding
Goal Setting & Tracking
Custom, Real-time Report Generation
Employee Profiles
Payroll Reporting
3rdParty Integrations
Employee Feedback Surveys
Pros
Easy to configure
Flexible
Cloud technology
Cons
Limited customization
Data integration can be complex
"Our entire organization finds this application to be user-friendly and can be accessed from mobile devices. It allows employees to utilize all of the self-service functions such as pay slips, and W-4 changes. This application is great for employee goal setting and allows managers to give feedback to the employee without delays."
4. SAP SuccessFactors
SAP SuccessFactors (sometimes referred to by users as "SF" or "SFSF") is an HR tool that provides cloud-based software for human capital management using the software-as-a-service (SaaS) model.
SAP SuccessFactors incorporates core HR and talent management features, offering its customers various deployment options that tend to specific solution needs.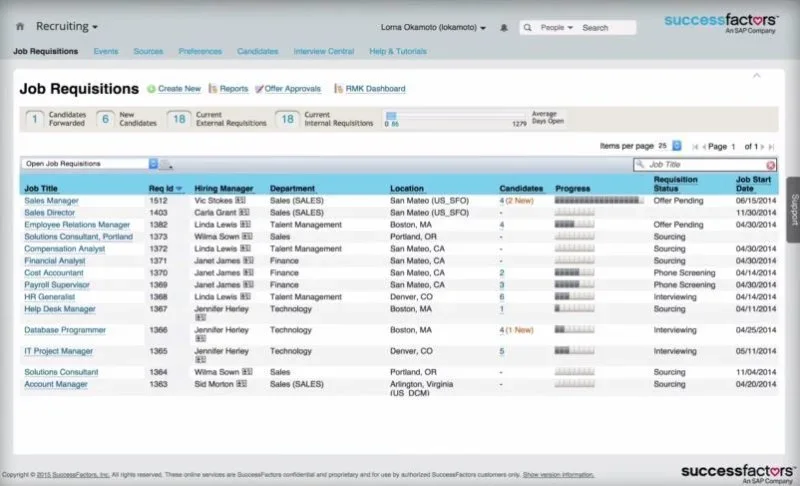 What is it: HCM
Best for: Medium-large businesses
Key Features:
Core HR
Payroll
Applicant Tracking
Onboarding
Learning Management
Performance Reviews & Feedback
Goal Setting
Compensation Management
Pros
Easy to set up
Intuitive UI
Cloud technology
Cons
Clunky module integration
Lacking some reporting capabilities
Slow customer service/ticket support
"The best thing about SAP's SuccessFactors it allows integration with a vast number of its own products along with different other platforms too. Also, it has many modules starting from recruiting management to Onboarding, Employee Profile, Employee Central, Time Tracking, Litmos, and many more."
5. Paycor
Paycor went public in 2021, showing their move from regional payroll solution to a larger national HRIS player. They have taken a best-in-class approach to growing their system, as they've acquired cutting edge ATS, Performance and Engagement solutions. Paycor is typically a cost-effective option and has performed well in industries like the nonprofit sector where their price point and scheduling capabilities are prioritized.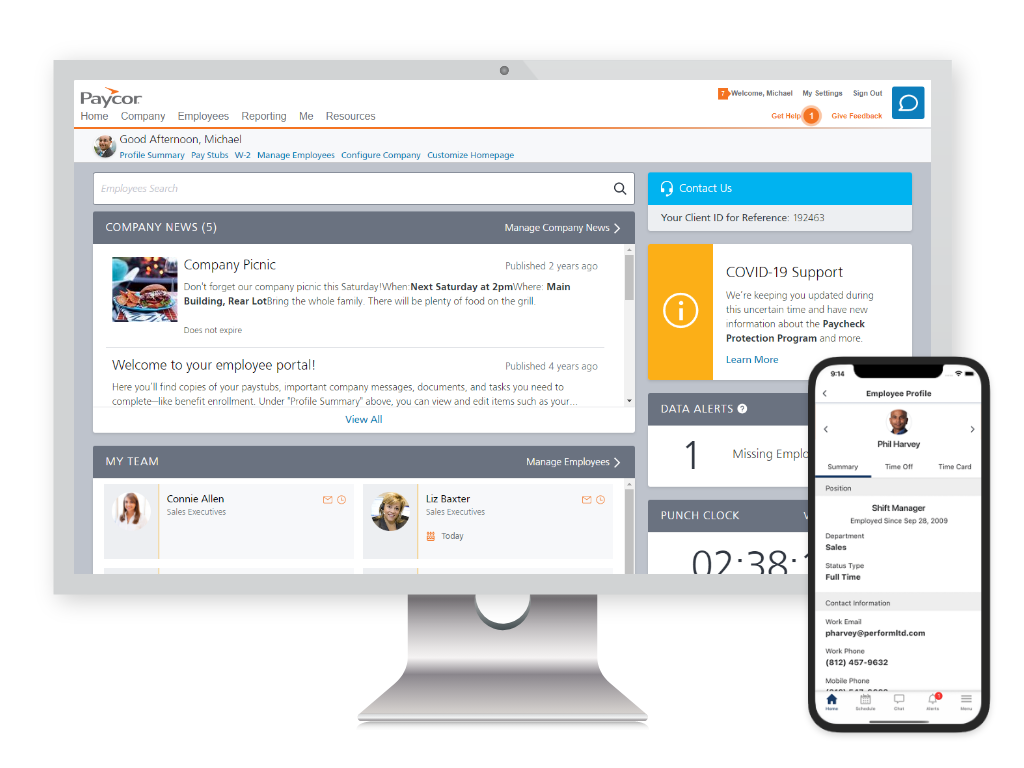 What is it: HRIS
Best for: Small-medium businesses
Key Features:
Payroll
Benefits Admin
HR/Employee Files
Time & Attendance
Onboarding
Recruiting
Learning
Performance
Engagement
Pros
Low cost
Robust payroll module
Extensive support team
Straightforward interface
Cons
Reports can lack real-time data
Lacking some reporting capabilities
Slow customer service/ticket support
Not a modern interface
Not great for companies over 350 employees
"We can keep track of time and attendance of employees, as well as absences due to illness or other causes. It also has performance management, to know the performance and productivity of each employee, as well as the progress of the tasks performed. Payroll management is fast and so far has been error-free."
Looking for More Ways to Improve Employee Engagement?
While this best HRIS systems list is a great place to start automating processes, there are more ways to engage your employees and improve retention and morale. One way is with employee recognition. If you're interested in getting started with social recognition software, Terryberry is here to help.
Contact us to learn more or schedule a demo. Our employee recognition software is designed to incorporate social recognition, performance awards, milestone awards, and communication channels all in one place.