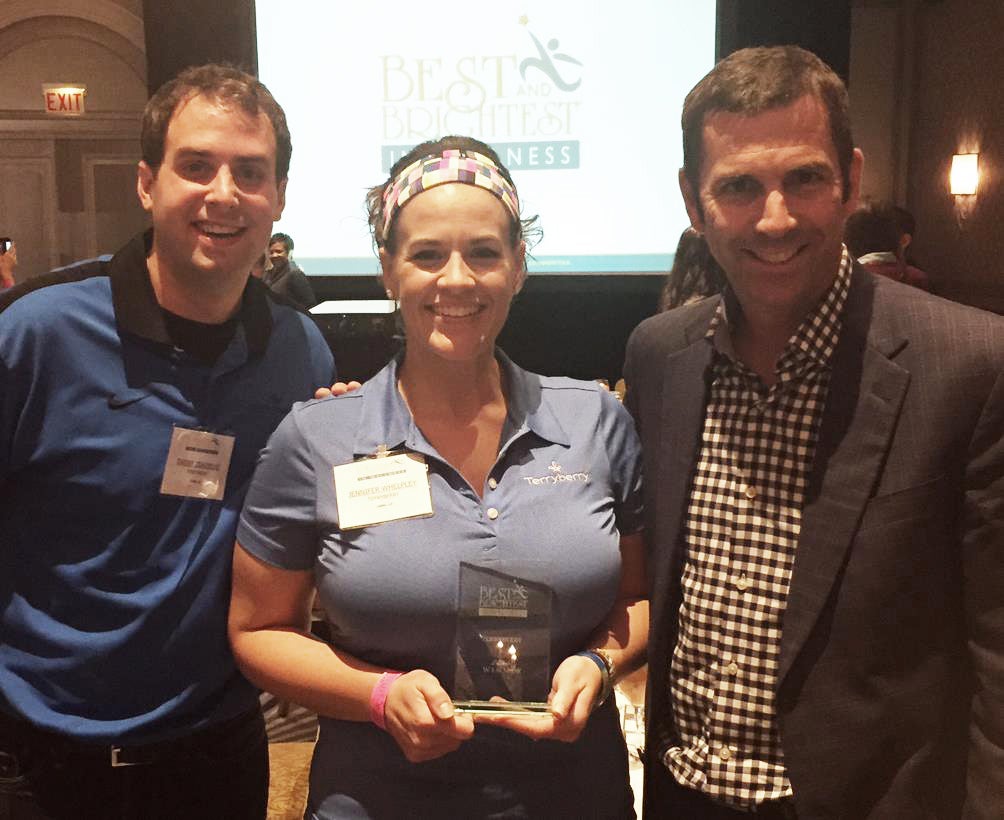 Like many companies, Terryberry is invested in the health and wellness of our employees.  In the last three years, as a company, we began to take this commitment to a new level.  We set a goal to make wellness a part of our company culture.  Today, we're starting to see those efforts pay off.  Terryberry was recognized among the Best and Brightest in Wellness for 2016.  While that honor is one we highly prize, the biggest reward is that employees are seeing real and measurable improvements in their personal health and wellness. A number of employees have moved out of high-risk categories in areas like cholesteral, weight, and blood pressure.  Here are 4 tips to help you in your own pursuit of employee wellness.
1. Gain Leadership Buy-in for Wellness Programs
As with any initiative, enthusiastic support from the leadership team is a must in order to be successful. At Terryberry, a volunteer-based Wellness Team was formed to champion the cause.  Executive leaders actively support the wellness initiatives developed by the team.  Members of the executive team participate personally in wellness challenges, along with all the employees.  This sends the message to the group that company leaders see the value in time and energy spent on wellness.  Leadership also supports wellness by providing funding and autonomy to the Wellness Team to implement regular initiatives
2. Implement Wellness Initiatives Consistently
Without a well-thought out plan for consistency, it's difficult for a company to maintain an active wellness program for the long-term.  Too many Wellness initiatives in company launch with a big push, but then fizzle after a few months.  It's important to make a long-term strategy that keeps the ball rolling for real and lasting results.  At Terryberry, this involved scoping out a 1 year plan before the program launched. The plan included monthly challenges and a defined communication plan.
3.  You Can't Over-communicate Wellness
Speaking of communication, you cannot over-communicate your wellness program.  At Terryberry our wellness program includes a defined communication plan for monthly initiatives.  Each month's wellness challenge is communicated via email, company newsletter, printed communications, and within our 360 Recognition program marquee.   Many challenges involve group participation (counting steps as a team, salad potlucks, etc).  These help to communicate the message through the group.
4.  Recognize Wellness Goals
What is recognized is reinforced.  Terryberry embraces that philosophy through an overall culture of recognition within our company.  This is applies to our Wellness Program too.  Employees earn recognition (Award Points) by participating in the monthly wellness challenges.  Award Points can be collected and redeemed for Wellness Awards. This system is administered using the 360 Recognition Platform. Recognition for wellness participation is shared through the company's recognition feed.  This adds a layer of communication and visibility for wellness initiatives on a regular basis.
Investing in your employees health and well-being can literally have a life-changing impact on your people.  These 4 tips will help you on your way to a culture of wellness in your organization.  Be Well!