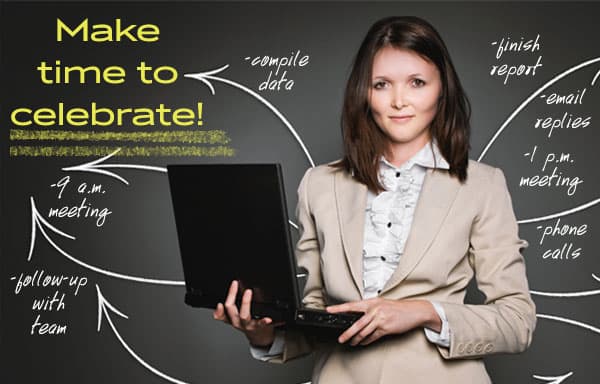 April 25 is Administrative Professionals Day.
Over 22 million administrative and office support professionals work for companies across the U.S., according to the International Association of Administrative Professionals. That calls for a lot of celebrating!
The entire last week in April is celebrated as Administrative Professionals Week and dates its origins back to the year 1952. Perhaps the most widely known day of that week is Administrative Professionals Day, celebrated on Wednesday.
Help spread some office cheer by appreciating those individuals whose multi-tasking maneuvers make your office run like a well-oiled machine. Then share your festivities by posting a photo or video on Facebook, LinkedIn or Twitter, using the hashtag #RecognitionHolidayChallenge. Just tag or mention Terryberry in your post to enter our 12 Months of Recognition challenge for the chance to win big prizes!
Below are a few ideas to help get those gears turning on ways to appreciate and celebrate your administrative team.
1.) "Say it with flowers" – A bouquet of fresh-cut flowers can brighten anyone's day.
2.) Go out to lunch – Be sure to let the administrative team pick the location.
3.) A box of chocolates – Many specialty sweet shops offer unique flavor combinations. Go for something exotic!
4.) Share sweets – Have a cake or cookie-cake personalized with your administrative professionals' names.
5.) Give them a break from rush hour – Give them the afternoon, or the whole day, off. Be sure to have a plan for someone else to fill in though, so their tasks aren't piled up the next day!
6.) Gift cards or gifts – Show them you appreciate all they do by giving personalized gifts or gift cards to favorite restaurants, shopping locales, or spas.
7.) Old-fashioned ice-cream social meets modern office party – Bring in catered ice-cream! Check your local ice-cream shop and have fun and smiles delivered to your office, with sprinkles on top!
8.) Give the gift of knowledge – Give them the opportunity to attend an energizing and inspiring training event or conference, like The Administrative Professionals Conference, for example. For more examples, check out this list.
9.) Dinner and a concert – give gift certificates for a dinner out and tickets to a concert afterwards that your administrative professionals can enjoy with someone with they love.
10.) Create more comfortable workstations – Take your admin team out for a day of shopping at a store specializing in ergonomic office equipment. Make it a fun all-day event and include lunch out, or a happy-hour afterwards.

However, you choose to celebrate, remember to keep genuine appreciation the focus of the day. And if you're up to it, start celebrating on Monday and keep up the festivities all week long, revealing a new surprise each day. Your administrative professionals will remember the thoughtfulness and enjoyable times for years to come.