It is a great day in the employee recognition business!
We like stats about communication at Terryberry.  Why?  Because at its core, employee recognition is simply effective, targeted communication that acknowledges a positive contribution somewhere along the "Good to Great" achievement spectrum.
In 2010, the research indicated that 11.3 was the magic number of impressions that is required to get a message to stick with your audience. That number keeps creeping higher as consumers are bombarded with more and more information.  In one of Terryberry's Book Club Webinars last year, Communications Expert and Guest Speaker Bob Kelleher suggested that it takes 13 impressions.  Some recent reports even indicate it takes as many as 15 impressions in this hyper-communicated world.
What does this mean for employee recognition programs? It means that if we want to leverage the impact of our program to its potential, frequent repetition of our message is absolutely essential.
We need to communicate the recognition message as many as 15 times before it even registers with our employees.  This seems like a daunting task. That's why Terryberry is passionate about working to develop and expand on programs like Give a WOW  and 360 Recognition and promotion tools that we make available to our clients.  These kinds of resources get everyone in the organization involved in the process of giving and receiving recognition, and they help make recognition visible and accessible to employees on a daily basis.
If you are an organization with non-desk employees, you might have the added challenge of not having email as an available channel to communicate with your group.  If this is you, consider registering for Terryberry's upcoming webinar, Cutting Through the Clutter…How to Communicate with Employees when Email Isn't an Option.  You'll learn about some of the latest tools for adding frequency and accessibility to your communication program.
Good stuff happening at Terryberry! Really proud of the great things our people are accomplishing!
Contact us to join the conversation.
Sincerely,
  Mike Byam
4th Generation Partner
Terryberry
 360 Recognition Platform – Video
Get a peek at how Terryberry's revolutionary 360 Recognition platform works.  It's one hub for every one of your employee recognition platforms.  360 Recognition makes employee recognition simpler to manage, interactive and personal for your employees, and more effective for your business.
The 360 Recognition platform revolutionizes the way employee recognition works in the workplace.  It houses all of the recognition programs under one roof – service awards, peer recognition, sales awards, and more.  360 Recognition also makes it easy to expand recognition programs over time and add new recognition programs as businesses grow. It increases the efficiency, consistency, and impact of recognition programs overall.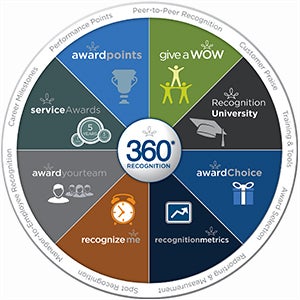 360 Recognition Platform Features:
A single hub to house all of your recognition initiatives from one easy-to-manage platform
Recognition Programs that work together – unlike stand-alone programs, the 360 Recognition platform allows your recognition programs to interact for better performance.  Service awards, peer recognition, "spot" appreciation, and performance awards share visibility for optimal recognition
Support Your Culture of formal, informal, and day-to-day recognition
Powerful Metrics and Measurements help you easily spot rising stars and assess engagement within individuals, departments, and your organization as a whole.
Plug and Play as Needed– easily add in recognition programs as you go.
It's 2015…Do Service Awards Still Matter?
I read an article the other day on service awards, and if I'm being honest, it kind of ticked me off.  The author starts out: "No worker has ever received an engraved plaque that read 'Thanks for keeping your seat warm for 10 years.'  Yet that is the message employers send with awards for employees' five, ten or 20-year anniversaries…"  I've read a few posts and articles now picking up on a similar theme– questioning the value of recognition for service milestones.
I'd like to offer a different opinion.  I myself have been in my current role for 9 years.  I'm coming up on a milestone 10 year anniversary next year.  (It's February 7, if you'd like to send a greeting.)  I am invested in my role, and in the company to which I have decided to dedicate a good portion of my career. You bet – if  my company ignored my service anniversary it would have a damaging impact on my level of engagement.  Frankly, it would hurt my feelings.  I've given a significant amount of personal time and energy to my work because I care about leaving a lasting, positive contribution on the company I have chosen to serve and the team of which I am a part.
Being in the Employee Recognition business,  I've heard comments like, "we should recognize performance and reward outcomes."  Yes, I agree with all that…in part.  But, in my mind, authentic recognition is more than ticking off a mark next to objectives.  I contend that if you want to engage your employees through recognition, you need to do more than recognize the performance.  Don't forget to recognize the PERSON.
An employee's service anniversary is an ideal time to highlight achievements and contributions over the past year, and over the course of an individual's career.  If you're not doing that as part of your service award presentation, it's probably time to start.   At the same time, I'd like to offer the idea that a career is a relationship.  If my husband of 16 years had forgotten or ignored our anniversary last year, he might have found himself in the doghouse.  It's not about gifts or flowers; but the gifts and flowers send a message: that I am important to him and that he is glad that we are connected.  My relationship with my coworkers is a different thing than my marriage for sure, but it's still an important relationship to me.  And I still want to hear that message that I am valued and that my presence at work matters.
Ok, I get it. Businesses need to watch the bottom line, and maybe all this is too much mushy touchy feely stuff for some. So let's look at bottom line numbers.  Replacing an employee who quits will cost anywhere from 20% for jobs earning less than $50K per year, to 213% for executive level positions.  In addition, fully 71% of the US labor force is on the job market.  If your business can move the needle on the cost of turnover by sending a message to your workforce that their service matters, isn't that worth it?
Let's also look at employee engagement data for a minute.  According to Gallup's report, 13% of employees are highly engaged and 24% are actively disengaged, leaving 63% in the middle.  Let's just say for argument's sake that your highly engaged folks are getting the recognition that they need.  And your disengaged employees don't deserve any recognition anyway.  That still leaves nearly two-thirds of the average organization's employees who fall in the middle and are likely the backbone of the business.  Consider this: these 63% are probably the behind-the-scenes people who are doing a lot of the heavy lifting day-to-day to keep your business moving forward.  They are probably not getting showered with confetti and applause on a regular basis.  What might it mean to Terry, who's been shipping your business's packages to customers for five years; or  Morgan, who knows the ins-and-outs of your company's billing processes, to hear on their service anniversary that their efforts have been noticed and appreciated?  What might it mean to Morgan and Terry's peers — who maybe haven't been at the company as long —  to see their friend and co-worker be recognized for their contributions.
I remember the first service award event I attended as an employee of Terryberry a few months after I was hired.  I received a welcome aboard award, which was cool. And I remember watching Mike Byam, the company's Managing Partner, as he spoke about each person who was receiving an award.  From the factory floor to the executive offices, Mike knew all their names, their personal interests, their achievements, and how they impacted the company.  That year, one individual was retiring after over three decades with the company.  He teared up when former employees, current peers, and family members shared about how he and his work ethic had impacted them.  That event in 2005 communicated to me what Terryberry is about.  It helped me understand the mission, vision and values of the company of which I was now a part.  And it did so in a way that a handbook or onboarding document could never have done.   Nearly 10 years later, it still has an impact on me.
Plug that into your engagement metrics spreadsheet.
To circle back to the author's comments I mentioned at the start, if your company has employees who are doing nothing more than "keeping the seat warm for 10 years," then maybe you have bigger issues.  But if your company has employees who have dedicated a good part of their lives in service to your mission, then may I be so bold as to say, that's worth a little recognition.
.
Still Looking for a New Year's Resolution?
Take the Challenge: 100 Thank You Notes
Feeling left out without a New Years' resolution to call your own?  Try the 100 Note Challenge.  Write 100 thank you notes in a month and see how your relationships with coworkers, friends, family members, customers, or vendors change for the better.  Everyone loves to be appreciated.  A thank you note doesn't have to be a novel.  Just a couple of quick, sincere words will mean more than you know. In the video above, Mike Byam, managing partner of Terryberry, shares about his experience with the 100 Note Challenge.
How will 100 THANK YOU NOTES change your attitude, your relationships and your success?
Get a better understanding of your employees' daily successes and challenges
Open the door for important feedback
Build enthusiasm and positivity
Give employees a better understanding of your goals and the business' objectives
Here are some starters for thank you notes to coworkers or employees:
Thanks for putting in the extra hours.

Welcome to the team!  I'm pleased about the skills you bring to the group.

Congratulations on the certification you received. Thanks for continuing to grow in your skills.

Great feedback from your customers. Thanks for providing excellent service.

Congrats on 100 days of perfect attendance!

Thanks for taking on new responsibilities, you are really growing your career

I appreciate how you take pride in your work. It shows.
5 Things You Think are Employee Recognition, But Are Not
Being in the employee recognition industry, when we ask people what their organization does to recognize their employees, we get all kinds of different answers. That's one of the great things about employee recognition; it can take many different shapes and many different approaches based on the culture and needs of the organization.
And every once in a while,  when we ask 'what do you do for employee recognition?' we get an answer that, well, simply isn't employee recognition.  So here are the Top 5 things people think are employee recognition, but aren't.
1. A Paycheck
Ever heard this?  "Sure, we recognize our employees…by giving them a paycheck."  Compensation and recognition are not the same thing.  Compensation is a contractual agreement based on services rendered.  Recognition is an expression of esteem for a job well done or an achievement that has been reached.  Now,on the flip side, we've seen business leaders who personally deliver paychecks to their employees with a handshake and a sincere "Thank you" for something specific that was accomplished during the pay period.  The paycheck isn't recognition, but the handshake and comments certainly are.
2. Monthly Birthday Parties
Celebrations for personal events – while awesome – are not employee recognition. Getting together to celebrate on a personal level can be great for company culture and team building. By no means would we suggest that these things aren't important.  But it's not recognition.
3. Holiday Hams
 Also awesome, but not recognition.  If everyone gets it and no one had to do anything to earn it, then it's a gift not recognition.
4. Casual Fridays
Who doesn't love company perks like Casual Fridays, Massage Mondays, or Taco Tuesdays?  One company on this list of 10 most unusual company perks offers "Free Beer Fridays"  and another free Botox injections.   Perks can be a super-fun way to build camaraderie and employee satisfaction.  It's important to remember though,  employee satisfaction and employee engagement are two different things.  If you're working hard to keep a group of employees satisfied who could care less about your mission, vision, and values, you are probably wasting your time.  We'd contend that it's important to focus first on helping employees connect their personal efforts to the mission of your group (engagement). Once you've got that down, by all means, hook up the perks!
5. Drawings for Winners
Pulling Suzy Smith's name out of a hat and awarding her as Employee of the Month is not employee recognition.  And I would argue that this type of activity is probably doing more harm than good.  "Recognition programs" where employees are on a random rotation to win with no connection to the individual's contributions are at best ignored as irrelevant, and at worst can be perceived as popularity contests, inauthentic and rote, and can turn off those who are sincerely trying to make an impact.
So What is Employee Recognition?
At Terryberry, we like to point people to the ABC's.  Employee recognition is the communication of acknowledgement and praise for specific Attitudes, Behaviors or Contributions that positively impacts the group's shared mission, vision and values.
Employee recognition can be formal, informal or day-to-day expressions of appreciation and can come from anyone in the organization: executive leadership, direct supervisors, peers, and even subordinates.  It can also come from outside the organization, from customers, vendors or business associates.
Terryberry's business is to help organizations create a culture of employee recognition.  We aim to help make giving and receiving recognition accessible, authentic, meaningful, and effective for everyone, because we know that when people are recognized for their efforts they are inspired to achieve more.
NEW 2015 Employee Recognition Calendar
Don't miss an opportunity to recognize, reward, and inspire this year!
Terryberry's Employee Recognition Calendar is now available as a free download from our website.  The calendar compiles of twelve months of employee recognition-themed holidays, such as National Thank You Day, National Nurse Appreciation Week, National Bosses Day, and other employee observance days.  The calendar also provides monthly employee recognition ideas and tips.
"Appreciation is one of the best ways to boost morale and build positive workplace relationships," says Terryberry's Managing Partner Mike Byam.  "Everyone wants to know that their efforts are noticed and appreciated. The Recognition Calendar is one resource in a manager's toolbox that helps him or her to say the right words at the right time to have the most impact."
Terryberry first introduced the Employee Recognition eCalendar in 2011 as a tool for its clients.  It has become popular with HR leaders nationwide.  The 2015 calendar is the latest in Terryberry's library of tools designed to help organizations build a culture of employee recognition in the workplace, which also includes HR webinars, worksheets, case studies and other resources.  The calendar is also integrated with Terryberry's iRecognize app for Android and iPhone.  The app allows users to send ecards and share recognition via Facebook and Twitter on commemorative dates. The Recognition Calendar and iRecognize app are both offered at no charge to visitors who download the tools from Terryberry's website.
Upcoming Webcasts
January 28, 2015
Terryberry Book Club Series:
Bridging the Gap, Engaging Virtual Employees with Kevin Sheridan
February 11, 2015
Cutting Through the Clutter, How to Communicate with Employees When Email Isn't an Option
March 5, 2015
Terryberry Book Club Series:
MANAGER 3.0 Grooming Tomorrow's Millennial Leaders Today with Brad Karsh
Upcoming Tradeshows
January 21-23, 2015 – Toronto, ON
HRPA 2015 Annual Conference & Tradeshow
February 3-4, 2015 – Birmingham, UK
13th Annual HR Directors Business Summit
March 8-12, 2015 – San Antonio, TX
2015 CMAA 88th World Conference & Business Expo
April 20-21, 2015- Atlanta, GA
2015 SHRM-Atlanta Annual HR Conference
View Trade Event Schedule>