Give a WOW is peer-to-peer recognition, social media style.  Find out how Give a WOW makes it FUN, EASY, and EFFECTIVE to give and receive recognition for great work every day.
Watch the video tutorials and read about features below to learn more about how Give a WOW works.
Contact us to learn more
How does the Give a WOW module fit in the 360 Recognition hub
Learn about Terryberry's complete recognition solutions and how the Give a WOW peer recognition module can integrate with service awards, performance points and more in a total employee recognition platform.
The 5-minute Overview
Get the quick low-down on how Give a WOW works and how it makes giving (and receiving) recognition fun, easy, and effective.
Woohoo! You're in the Program! What's Next?
Here's how to get set up and start WOWing. Learn how to login for the first time, upload your photo, sync with Facebook/Twitter, Follow Peers, Give some Recognition.
How to Nominate Someone for Recognition
Watch how easy it is to nominate someone for recognition with Give a WOW.
How to Review and Approve award Nominations
In this tutorial, you'll learn how to review and approve award nominations through the administration dashboard in Give a WOW
How to Change Your Language Preference
Give a WOW PRO can be translated into 70 different languages at the user level. This means that no matter what language you speak, you can experience Give a WOW in your own native language. Learn how to use the translation feature in this tutorial.
Cool Features
Give a WOW is the most dynamic, engaging and effective peer recognition solution on the market. We have a legion of nerds working tirelessly to create cool, new features to make Give a WOW even WOWier.  You might say it's a way of life for us at Terryberry. When you implement Give a WOW you get all the latest and greatest features as soon as they become available.
Here's some of what's new…
Give a WOW is Now More Accessible on Any Device!
Give a WOW has a sleek new design, and its beauty is more than skin deep. Your Give a WOW is fully functional and fitted to your smartphone, iPad, laptop, or desktop… so no matter where you are, your Give a WOW experience is a WOW.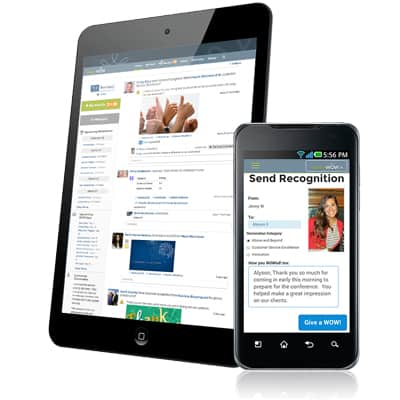 Big Wall Keeps on Scrollin'
No more clicking through pages of recognition to go back in history. Give a WOW's new MONGO Wall lets you scroll to your heart's content.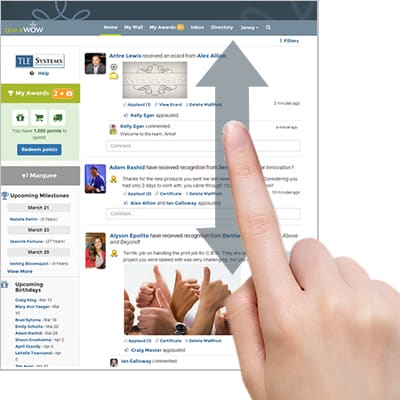 Find it Fast!
The New FILTERING, SEARCH, and DIRECTORY features give you access to the information you want with just a click or a tap. Filter by location, award level, and category to quickly and easily find out about recognition in different areas of your business. Search tool makes it easy to find individuals. Easily get a snapshot of individual, group, or category engagement.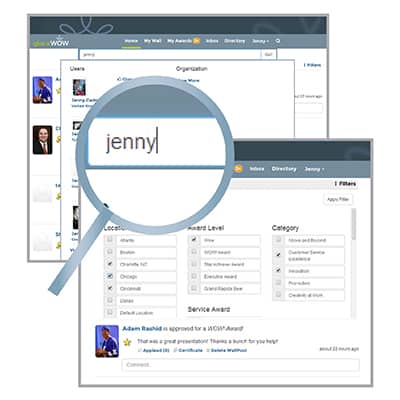 Staff Directory Feature
The employee directory in Give a WOW and 360 Recognition makes it simple to find employee contact information: phone numbers, email addresses, department and locations…even hire dates and birthdays!   The Give a WOW directory is a great tool to help your group stay connected!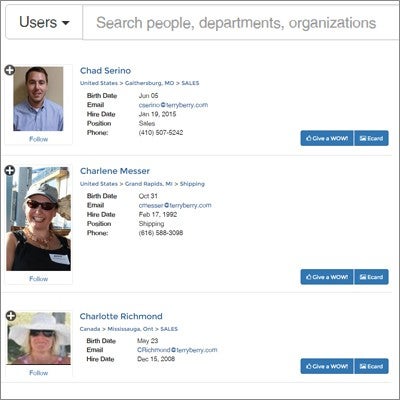 Recognition Wall
It's a virtual bulletin board, social media style! Communicates successes throughout your group and encourages personal interaction. Employees engage with each other by giving a virtual high fives, applauding, and commenting on posted successes.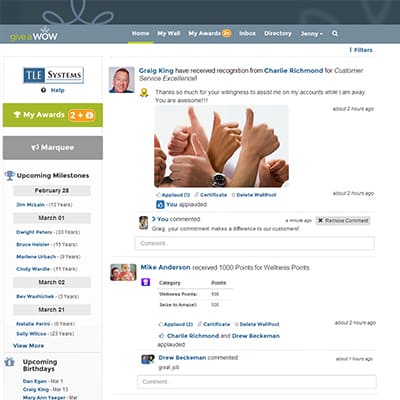 eCards
Congratulate career achievements and celebrate personal events with Give a WOWs new ecards.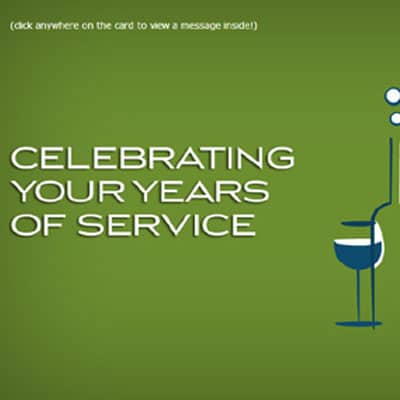 Yes, We Speak Your Language…and Czech, Chinese, and Latvian too.
Give a WOW is translated into 70 languages at the user level, allowing you to offer employees a recognition experience in their own native language!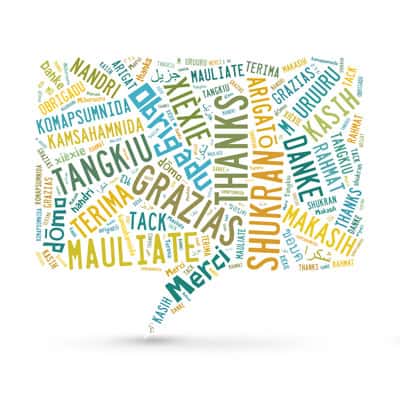 Customers Can Give a WOW Too!
Now your Give a WOW program can accept recognition via email. Why? So your patients, customers, or others outside your Give a WOW network can send in recognition for praiseworthy experiences with your employees. Imagine the power of capturing all of that recognition! Now you can do it easily. It's as simple as an email which can be reviewed by your program administer before it gets posted directly on your organization's Recognition Wall.
Share WOW's on Facebook, Twitter, and LinkedIn
Integrate your WOW!s with your personal social media. Give a WOW can post your personal recognition on your Facebook, Twitter and LinkedIn. Let your online community of family, friends, and connections help congratulate your accomplishments at work. Social media integration is a free, optional feature for entire organizations. Employees are able to opt-in or out on an individual basis within a participating organization.
Get Recognition via Text
Never miss a recognition moment! Now you can sign up to receive a text message on your mobile phone when you receive recognition. Sign up for recognition texts in the Notifications tab in your profile.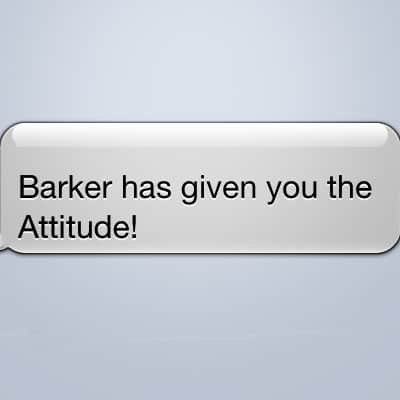 Build Your Brand
Every Give a WOW program displays our client's logo and unique values. With our custom branding option, take it to the next level. Your Give a WOW PRO site can be fully customized with your brand image, corporate colors and messaging. Reinforce company pride!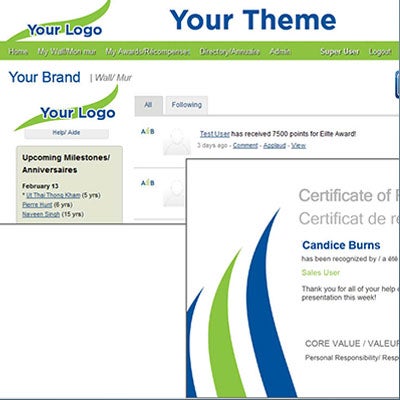 Single Sign on (SSO)
Give a WOW can securely tie into your organization's network, eliminating a secondary login. Employees will use their existing user name and password. Option available with PRO only.
SmartPhone App
Give recognition on the go! We've got an app for that! Connect to your Give a WOW account through our free Droid and iPhone apps. Available for both Quickstart and Pro.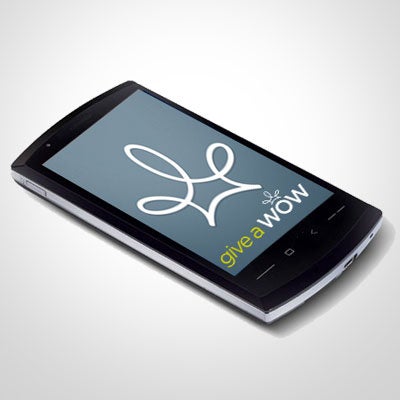 Group WOW's
Recognize a whole team with a single click! Bolster teamwork and department successes with the Group WOW!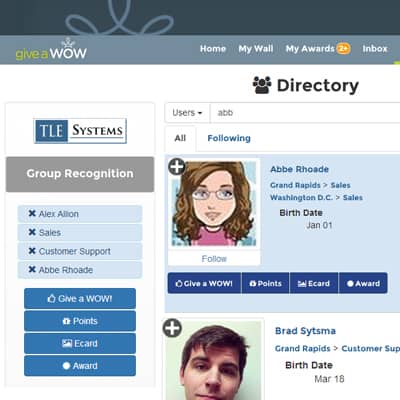 Service Milestones
Upgrade your Give a WOW PRO account by adding 360 Recognition modules for other types of recognition like service anniversaries. Give a WOW is a one stop shop for all your recognition. See a listing of upcoming anniversaries on your Recognition Wall. Congratulate and celebrate your colleague's milestones.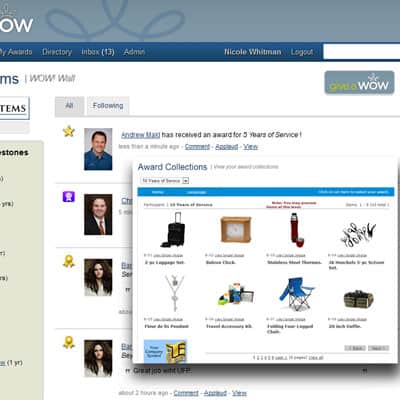 Company News/Events
Easily share the who, what, when, where, why with your people! Highlight your organization's top headlines, links to newsletters and press releases, event listings and HR announcements, directly through your Give a WOW platform.
Daily Recognition Report
Automated report generates a listing of your personal recognition for a given time frame. Program administrators have the ability to view recognition given and received by all participants in the network.
Admin Dashboard
An easy-to-navigate tool for program administrators. View your Give a WOW analytics and levels of engagement among all participants. Generate and print reports and see the queue of recognition awaiting your approval. A great resource for preparing performance review praise. Uncover the hidden leaders and masters of motivation in your organization.