Putting together a company anniversary event can be a daunting task, but it with creativity and planning, celebrating company milestones can be fun for all involved. After all, your company milestones are a result of years of dedication and hard work. Now is the time to take a step back and celebrate what your group has achieved.  If your organisation is approaching a milestone anniversary, this list is for you.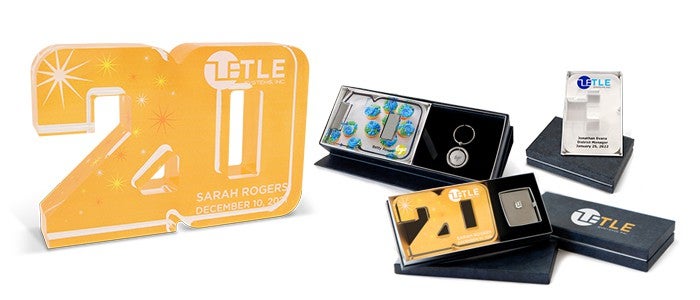 Here are 35 creative ideas to help you make your company anniversary special.
Host a company anniversary celebration for employees, partners, customers and friends of your organisation

Create a visual timeline of important company milestones throughout your organisation's journey

Play music that was popular the year your company was founded

Design a brand-compliant anniversary logo that can be used throughout your company's milestone year

Add a tagline to employees' email signatures to celebrate the company anniversary

Present staff members with an acrylic Digit for your milestone year, custom printed with your logo and the employee's name.

Design a company anniversary flag

Give funny awards for zany achievements

tip: check out Terryberry's free certificate maker to create printable certificates

Send thank-you notes to customers, partners, and staff for helping your organisation achieve a significant milestone

Honor long-term employees with service awards

Give a special award to your most tenured employee

Invite the mayor or local dignitary to make a presentation at your company headquarters

Highlight long-term customers at your company anniversary event or in other communication materials

Collect and display early company photos and artifacts from your company's history

Take out a billboard ad near company headquarters in the in honor of your company anniversary

Submit a news release to local media regarding your company's anniversary

Take group photo of the entire staff and print copies for each employee

Design and print a company anniversary book with photos, a company history, and quotes from employees, leaders and customers

Get t-shirts, hats or other apparel made with your company anniversary logo or tagline

Share a recorded an anniversary message from your CEO

Create a photo mosaic using company photos and images

Display early prototypes or early product models

Display future prototypes to demonstrate where the company is headed

Give employees and customers a small gift that is symbolic of your organisation

Offer an exclusive anniversary-themed product

Display awards and accolades your organisation has earned over the years

Share anniversary news on your company's website, social media, and newsletters

Celebrate your company anniversary with a Do Good Day where employees can volunteer together on a project to benefit the community

Host a trivia game where contestants can compete to demonstrate knowledge of quirky company factoids

Plant a tree or install a work of art in honor of your company anniversary

Hold a CEO look-alike contest

Invite friends and family for a behind-the-scenes tour where employees can show off their work

Create a company-themed coloring book for children of employees

Host an Employee Wellness Day
RELATED: 10 Employee Anniversary Recognition Ideas
We hope your company anniversary events will be memorable for all involved.  If you're interested in ideas on how to infuse employee appreciation gifts  into your company anniversary celebrations or how to build a culture of employee recognition in your organisation as a whole, we'd love to talk. Contact Terryberry to learn more.