The most common way organizations recognize their employees is by their work anniversaries. Not only does it make them feel respected and valued, but it motivates them to stay longer and achieve even more milestones.
Let Terryberry help you make your employee feel special for his or her 10-year anniversary with our AwardChoice program. After you set your budget, we'll send a list of gifts that will give your employees the freedom to choose their favorite one. Visit our pricing page for guidelines on what most companies budget for 10-year employee anniversary gifts.
Download a Brochure
Other Services to Make Work Anniversaries Special
Browse some of our other services to add WOW factor to your employee service anniversary gifts:
Contact us to Learn More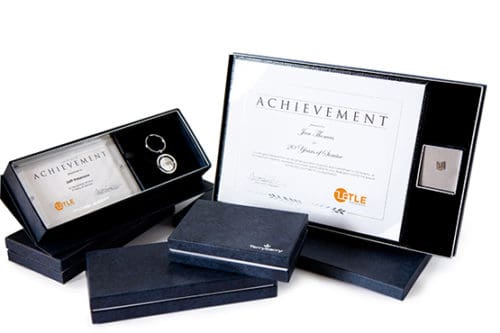 25,000+ clients trust Terryberry for employee rewards and recognition. Here are just a few.

Headquartered in Grand Rapids, MI with 30+ locations worldwide, Terryberry has specialized in employee recognition products and services since 1918.  Trust your work anniversary gift program to an established partner with a  proven record.