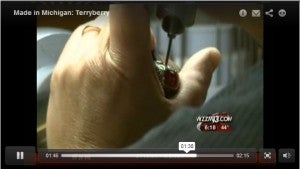 Terryberry is proud to provide Made in Michigan products. Watch the segment on Terryberry featured on WZZM 13 Grand Rapids about their nearly century commitment to manufacturing high quality, one-of-a-kind award and custom recognition jewelry in Grand Rapids, MI.
Every one of Terryberry's awards tells a story…a story about an organization, an outstanding individual, and an exceptional accomplishment.
Dave Beemer, Chief Operating Officer of Terryberry is interviewed in the segment,
"Each of the rings we manufacture here are made for one individual person, for John Smith, with John Smith's name is on the side, from start to finish it's for one single person."
Check out Terryberry's story and see first hand the great pride their employees take in the products they create day in and day out to help recognize others' achievements: Made in Michigan – Terryberry.
Since 1918,  Terryberry has been helping organizations develop recognition programs to motivate and retain valuable employees. They have built an international reputation for  innovative approaches to customized recognition and award programs. Learn more about Terryberry's history and experience.