by Matt McIntosh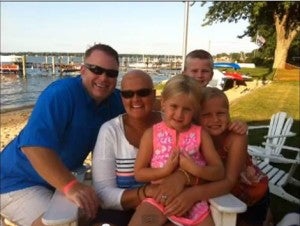 I wanted to take the opportunity today to say 'Thank You'!
I will steal the favorite saying of Terryberry Managing Partner Mike Byam (I am sure he won't mind…
"It's a great day to be in the employee recognition business!"
Today marked a special day in the community in which my wife Katie and I live with our 3 children, East Grand Rapids, MI.
It was a great day to be in the recognition business as I witnessed something very special today in the form of recognition. A handful of young adults were recognized for their acts of kindness in our community.  Two of the recipients were young men that helped my wife Katie and the students at the school where she teaches put together a lip dub video of the Katie Perry song "ROAR".  This song has been Katie's theme song through her cancer journey thus far.
Check out this very cool video; here is the You Tube link:

I wanted to take the opportunity to say to you all…..THANK YOU for your thoughts and prayers during this journey that my wife and family have taken head on!"
-Matt McIntosh

Matt McIntosh has been part of the Terryberry family for over nine years, helping organizations in the Midwest develop programs that recognize champions.  When Matt's wife Katie was diagnosed with breast cancer this summer, her and Matt's spirit of grace and courage taught all of us at Terryberry more about what it means to be a Champion. Katie, we hear you ROAR.