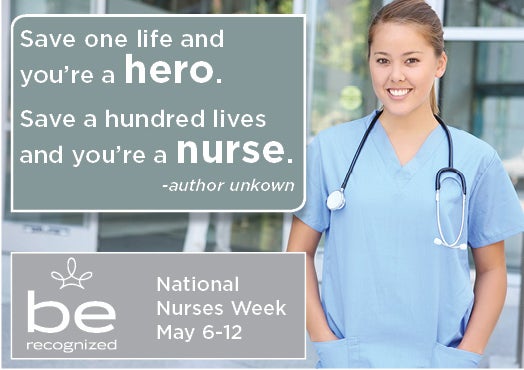 On a daily basis, nurses heal and touch lives in profound ways with their skill and compassion.  A little appreciation and recognition goes a long way to reinforce the value of a nurse's work and to bolster a nurse's spirit for the challenging work they face day in and day out.  Heath care organizations that do a great job of recognizing their nurses and staff have lower voluntary turnover and better patient satisfaction.  National Nurse Appreciation Week is May 6-12.  Nurse Appreciation Week is a great time for health care organizations to grow their culture of recognition, beginning with their nurses.
This case study reveals how a hospital system in Texas implemented a Give a WOW peer-to-peer recognition solutions that dramatically impacted recognition solution in the workplace by creating a social platform where employees could publicly recognize a co-worker when they notice someone going above and beyond to demonstrate the organization's core values of service, quality, growth, and financial performance.
Health care organizations now can use Give a WOW to empower patients to "give a wow" too.  Why? So patients, caregivers, or others outside the organization's workforce can send in recognition for praiseworthy experiences with employees and nurses.
Imagine the power of capturing all of that recognition, and the impact it would have on nurses to hear more feedback from patients and families about how their work made a difference. With Give a WOW, it's as simple as an email which can be reviewed by a program administer before it gets posted directly on the organization's Recognition Wall.
In a hospital or medical practice this kind of feedback can be powerful in so many ways.  If you're looking for ideas for Nurses Week, try Give a WOW with your team free for 30 days and see how the power of appreciation can impact your organization.
Get more National Nurses Week ideas here.