May is National Walking Month, which means it's the perfect time to get moving! Whether you're new to fitness or a seasoned professional, walking can be a great option for many people. Walking is adaptable in intensity, doesn't require extra equipment, and you don't need a gym membership – what's not to love?
If you're interested in participating in National Walking Month, take a look at our ideas for getting started.
Why Was National Walking Month Created?
According to the Centers for Disease Control, more than 60% of U.S. adults don't engage in the recommended amount of activity. And approximately 25% of U.S. adults are not active at all.
In an attempt to combat this issue and raise awareness about the importance of physical activity, National Walking Month was first introduced by the American Health Association.
Starting as National Walking Day in 2007, the event has grown into a month-long national initiative to promote healthy lifestyles.
Benefits of Walking
So, why walking? While any physical activity can be beneficial to your health, walking in particular can be a great option. Here are just a few reasons why:
Walking Can Reduce the Risk of Breast Cancer
A study from the American Cancer Society found that women who walked seven or more hours a week had a 14% lower risk of developing breast cancer than those who walked three hours or fewer per week. Even more surprising – walking had this affect even on the women who had breast cancer risk factors.
Walking Can Counteract Obesity Genetics
A Harvard study of 12,000 people found that walking briskly for an hour a day cut the effects of obesity-promoting genes in half.
It Eases Joint Pain
Studies have found that walking is good for arthritis, both in easing its pain and preventing it from developing. Walking is especially helpful for strengthening muscles around the knee and hip joints, which helps protect these sensitive joints.
It Can Improve Brain Health
Physical activity, including walking, can improve memory, reduce anxiety and depression, and even reduce the risk of cognitive decline. One study found that cognitive decline was twice as prevalent among inactive adults than active ones.
Walking Improves Cardiovascular Health
Walking is great for improving cardiovascular health. Walking for an average of 30 minutes or more a day can lower the risk of heart disease, stroke by 35% and Type 2 diabetes by 40%.
How to Participate in National Walking Month
Ready to challenge yourself? Check out our 10 ideas for taking your walk from a chore and turning it into a hobby.
1. Join a community walking group:
This is a great way to meet new, like-minded people while keeping yourself accountable. In fact, research shows that the actions of others rub off on us, so being around people with healthy habits benefits us. Just hop online and search for walking groups in your neighborhood.
Sign up for our virtual walking challenge here!

2. Try walking meditation:
Why not get even more out of your walk by trying a walking meditation? Meditation has been shown to reduce stress and anxiety, promote focus, and even improve brain health. So, pop in some earbuds and follow along to a walking meditation.
3. Learn a new language:
Studies suggest that due to the increased blood flow to the brain while walking, it's a prime time to learn something new. Memory retention even gets a boost too. It's the perfect time to dedicate to learning a new language.
4. Listen to a Podcast or Audio Book:
Everyone's gotten lost in a good book from time to time. Why not turn your walk into a mini mental escape and listen to a great book or podcast?
5. Discover a new neighborhood/trail:
Who says you can't drive to a spot to walk? Research some great trails or neighborhoods that are walker friendly. You might just discover your new favorite spot.
6. Take Photos:
When you're looking for something to photograph, you'll be surprised at just how much natural beauty you come across every day. Don't worry about your photos being "good," just get out and snap a few of whatever catches your eye. Walking has even been shown to boost creativity, so you may just create something you love.
7. Solve Problems:
A study by Stanford found that creative problem-solving ability was increased by an average of 60% amongst participants who walked versus those who were seated. These creative benefits applied to both indoor and outdoor walkers. So, if you can't make it outside, hopping on a treadmill can be just as good.
8. Mall Walk:
If the weather isn't in your favor, try window shopping as you walk through a mall. Air conditioned in the summer and heated in the winter, the mall is a great place to get in some extra steps.
9. Bring the dog:
Research shows that dog owners walk an extra 22 minutes more a day than non-dog owners. These people also tended to walk at a brisker pace than people without dogs, which has been shown to be just as effective as running.
10. Clean up your neighborhood:
Unfortunately, litter seems to pop up everywhere. Why not grab a trash bag, some gloves, and pick up some bits you find along your street? You'll get your steps in while helping the planet.
Join Our National Walking Month Challenge Today!
To encourage movement nation-wide, Terryberry has teamed up with EverWalk and Good Morning America for a month-long walking challenge. 
The goal? Get people moving! Invite your friends and family to virtually walk with people from America and around the globe.  
Sign up here for FREE!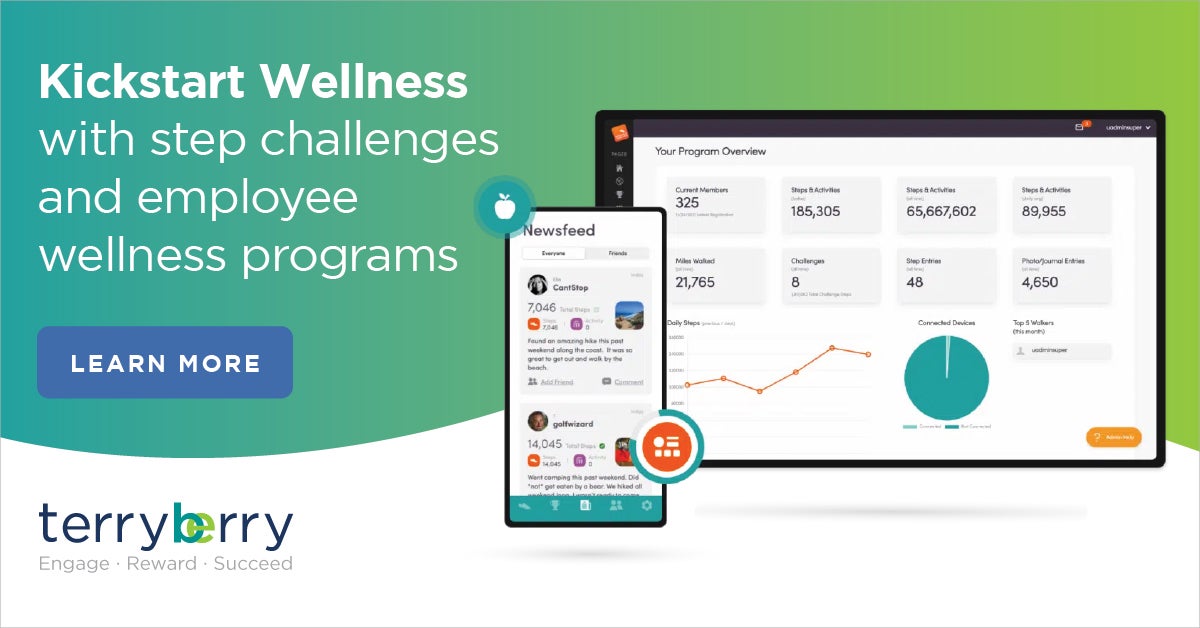 Tags
Permalink