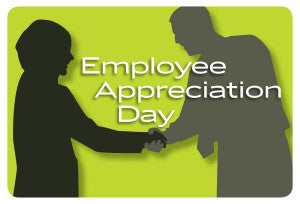 Give a Shout Out to Your Hardworking Employees!
Looking for some innovative ways to show your employees you appreciate their efforts on March 6th and every day? Terryberry has some great tools and resources for thanking employees for their hard work and dedication.
Contains over 600 on-the-spot recognition opportunities. Starting at just $42, Recognize Me kits make recognizing, rewarding and thanking employees quick, easy and timely. Browse Recognize Me Products. > ORDER ONLINE
Create a WOW moment for your award recipients. Award presentation kits are designed to make it easy for you to present awards in a polished and personalized way. Call 800.253.0882 to order personalized kits. > VIEW SAMPLES
Get employee recognition ideas, free templates, checklists, recognition tips and more to help you recognize and reward your employees. Most are free! > CLICK HERE

Anyone can make a positive difference in their workplace culture by noticing and appreciating the efforts of the people they work with.
Ready to get started? Contact us today to talk with a recognition specialist.