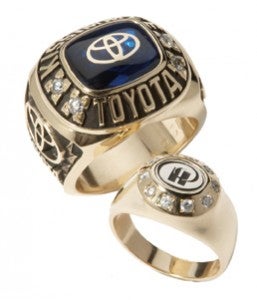 In honor of NFL, college and high school football season,  imagine the hard-working members of your company or business as players on a football team.
You're the coach – or perhaps the team's owner – depending on how involved you are with the day-to-day operations of your business, while your VPs can be quarterbacks and your managers can be receivers. Your other employees can be blockers and tacklers.  Support staff like custodians and maintenance workers might get into the game as hydration techs and medics, etc. At the end of a successful season – translated into perhaps your holiday party or the retirement of a valuable worker – especially if your company…er team….wins big-time, what are you going to do to commemorate your big Wins?
If your company…er team….wins big-time, what are you going to do to commemorate your big Wins?
For Super Bowl winners, the iconic NFL Super Bowl ring is a cherished trophy those athletes will wear for the rest of their lives. Given the tremendous symbolic meaning of rings throughout history for everything from a monarch's seal to the promise of faithfulness in marriage, it's no surprise that these round, metal and often-ornate pieces of jewelry have symbolized important milestones of all sorts, including athletic victories…and now business victories.
In the world of work, award rings can be a coveted trophy and a symbol of high achievement. Whether an employee gets a beautiful ring from his or her company upon retirement, or for a sales achievement or other special job done well, or for reaching a certain number of years of employment within the organization – the act of giving such a ring and of receiving that ring has special significance.  Receiving an award ring from the owner or CEO of a company carries with it a symbolic initiation into a family or fraternity, and membership into an inner circle of sorts. And while these meanings are symbolic gestures today, just about any employee will be delighted to receive a striking piece of jewelry just for the beauty and achievement factor of owning it.
At Terryberry, we specialize in employee appreciation and recognition strategies like lapel pins and rings, which are great conversation pieces and intimate trophies earned by hard-working and trusted employees. Take a look at our award rings gallery and see the many options available. Perhaps you're considering starting your own Championship Award Ring tradition for your team of football superstars.  We can help you make it a trophy to strive for.