Get answers to your questions about Terryberry and our employee recognition solutions.
If our FAQ doesn't cover the information you were hoping to find, simply contact us and we will do our very best to provide the information you need.
Learn More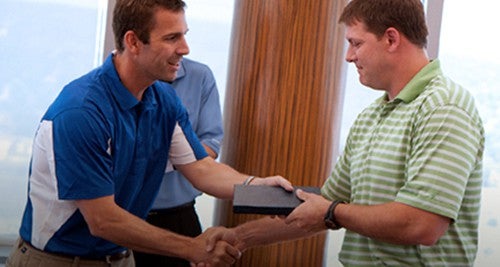 Why is Employee Recognition Important?
Research consistently shows that competitive pay and benefits aren't enough to attract, retain and cultivate the best talent. To increase job satisfaction, you must create pride and foster loyalty at every level of your organization. Employee Recognition is #1 driver of employee engagement.  Read more in our Whitepapers.
---
How long does it take to set up a program?
Very little of your time is required to set up or administer a Terryberry recognition program. It is our job to get your program up and running so you can enjoy the benefits without adding to your workload. If you need a program today, the self-serve model of Terryberry's Give a WOW program can be up and running in minutes, or Terryberry can set you up with an online awards catalog for recognition gifts in a matter of days.  More expansive programs that include integration with your HR software or other customizations may take 1-4 months to implement. We will work within your timeline to make sure your organization's recognition program is ready when you are.
---
Is it important to brand our recognition program and awards?
To be truly effective, an award must be unique and exclusive. Include your logo or brand in a classic, understated fashion to reinforce the connection to your organization and the achievement. This is what makes an award special to earn; it's not just something that the individual could purchase for themselves.  In the same way, consider the communication materials associated with your recognition program. These should reinforce your employer brand and your core values to participants.
---
How do I determine a recognition award budget?
On average, organizations invest 1% of payroll in their employee recognition programs. Typically, organizations spend between $25-$35 per employee per year of service for a service award. This translates to a 5-year award that is between $125 and $175. What your group chooses to invest may be dependent on the age of the company, type of business and, of course, budget. Learn more about Terryberry's rewards and recognition pricing.
---
How do companies differentiate between levels of service or achievement?
Both a five-year employee and a twenty-year veteran deserve to be recognized. However, there should be an increase in both real and perceived award value for the employee with more longevity. To recognize ongoing or exceptional performance, you may opt to use a sequence of gemstones and diamonds, or increase the value of the award choices available to your most senior people or higher achievements. Terryberry proposals include specific recommendations based on years of experience in creating award programs.
---
Are recognition awards taxable?
Service and Safety Awards are tax deductible for sponsoring companies and excludable from the incomes of individual employees. However, there are some rules. The award must be a part of a "Qualified Plan."; an item of tangible personal property awarded as part of a meaningful presentation and average under $400 with an upper limit of $1,600. Awards over $1,600 are taxable to the recipient only for the amount above $1,600. Your Terryberry consultant can provide details, but you should also consult your tax advisor.
---
Once I have placed an order, how long will it take to get the awards?
For most products, initial orders generally require four to six weeks; while subsequent orders can be filled in just three weeks. However, Terryberry prides itself on meeting your delivery requirements. Should unforeseen circumstances cause an immediate need, we will do everything possible to get your awards in time for the presentation.
---
Is an awards presentation important?
The presentation of an award is arguably as important as the award itself.  An appropriate and thoughtful presentation will be remembered for years to come. Want to know more?  Download Terryberry's award presentation cheat sheet or visit our recognition speeches page for tips on how to give an effective award presentation.
---
I've earned an award from my employer. How do I redeem it?  
Please contact the administrator of your organization's recognition program for information on how to receive your award.  Our customer service team is also available to help.  Contact us at [email protected].
Do you have additional questions? We'll do all we can to answer them thoroughly! Contact us.