Terryberry's gift choices will delight your recipients.
With Recognition Collection Catalogs, you simply set a budget. Then Terryberry provides you with beautifully packaged gift catalogs including a range of brand-name choices, professionally curated for variety, quality and appeal.  You'll be sure your recipient will receive a gift they'll enjoy!
Starting under $50!
Contact us today to request sample catalogs or to get started.
Get Started Today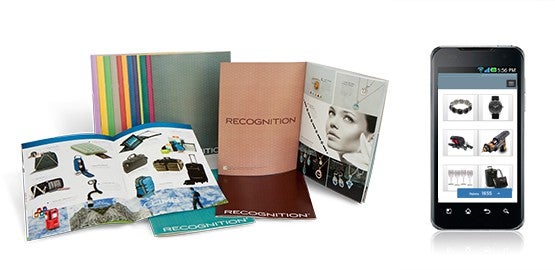 Highlights of the Recognition Collection
14 Budget Levels – choose the fit for your budget, starting as low as $45
Branded Options – your company symbol can be added to any gift in the collection
More Choices Than Ever – 1,000's of Brand name items from Kate Spade, Tumi, Bushnell, Skil, Tourneau and so much more
Online Gift Selection is available too!
Business Gifting, Made Simple
It's Easy!
Outsource the Administration – Terryberry handles all the legwork: expert product selection, beautiful customization, online selection, fulfillment, communication tools, tracking and more
Branded Gift Catalog Available – display your logo, message, and even a custom gift selection
Worldwide Shipping with online order tracking and best on-time delivery in the industry
Dedicated Local Customer Service – no-hassle returns, first-class service, and the confidence of Terryberry's sterling reputation and 100 years in the industry