People love to hear, "thank you for your hard work." Those six words can make anyone feel valued, appreciated, and seen. A Gallup poll revealed that employees appreciate being recognized at least once a week; however, 65% of employees report that they've received no recognition in the past year.
It takes concentrated effort to build a company culture that's abundant in expressions of praise and appreciation. A recognition-rich environment that celebrates your people and their accomplishments– large and small– can lead to a number of positive results in the workplace. 
In this article, we've detailed the importance of thanking employees for their efforts and provided messages and quotes you can use in expressing your appreciation. 
Why Is It Important to Say Thank You For Your Hard Work?
Warm and fuzzy feelings aren't the only results of saying thank you. Employees who feel appreciated are twice as likely to be engaged in their work, three times as likely to feel a sense of purpose in their work, and four times as likely to feel happy at work. 
In a comprehensive Gallup report regarding employee engagement, a focus on strengths was listed as one of the five key factors that drive engagement. By voicing your appreciation in a direct and genuine manner, you can increase employee engagement and retention within your organization. Furthermore, employee recognition leads to increased productivity and improved job performance. 
Saying thanks is good for your people and good for your business.
Sometimes it can be difficult to put into words just how thankful you are for an employee's contributions. We've rounded up the best messages and quotes of appreciation to make saying 'thank you' a breeze! Check them out below.
Thank You Messages For Work
Specificity is a key component of employee recognition. Use these messages as a base to craft the perfect 'thank you for your hard work' message and watch your employees thrive.
Work Ethic
Day after day, you come to work and give your best effort. I value your commitment more than I can say.

Your work ethic sets a great example for everyone else, including myself. 

The dedication you show to your work is inspiring. I appreciate how you continue to show up and give it your all. 

I want you to know that I notice how you go above and beyond in all that you do. Your efforts are greatly appreciated.

You don't stop until you've completed a job well done. Thank you for consistently working to produce high-quality results. 
Team Spirit
I appreciate the team spirit you share that's built a feeling of camaraderie with your colleagues. 

You have a gift for always building others up. Your positivity and kindness are always appreciated. 

Your colleagues have nothing but positive things to say about you. That speaks volumes about the impact you have in this company. I'm proud to work with you.

You have a gift for making sure everyone feels heard. Thank you for empowering others. 

I am constantly in awe at how you promote a spirit of collaboration among others. Thanks to you, every project is completed with ease. We couldn't do it without you.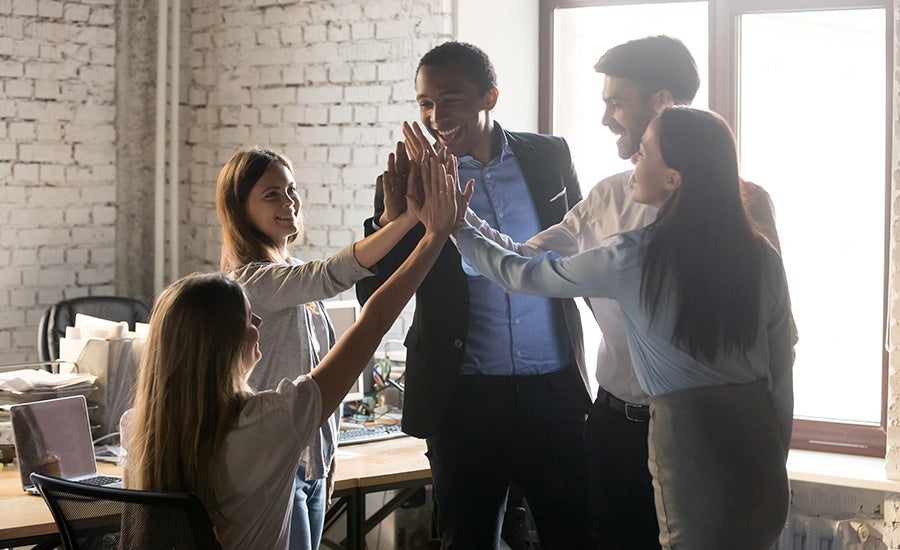 Performance
The innovation you showed to solve [problem] was incredible. I was amazed by your problem-solving.

I'm blown away by your performance, but not at all surprised. Keep up the great work!

Congratulations on this latest achievement. I know it's just one of many.

You went above and beyond on the X project. I know our success was because of your unparalleled performance. Thank you!

You've been crushing your goals lately. I'm glad to be working with someone as exceptional as you. 
Milestones
From day 1 to year X, your work in this organization has been incredible. Thank you for your continued contributions!

You've been an integral part of the team from the beginning. Congratulations on another year of exceptional work.

Even after X years of experience with [company], you maintain an admirable level of enthusiasm for the work you do. You've never settled for complacency. Thank you for bringing your joy and passion to work everyday. 

Your journey with [company] has been inspiring. Congratulations on your new role– I know, without a doubt, that you're going to continue to impress us.

[Company] would not be where it is today without your contributions throughout the years. Thank you for leaving behind a legacy; we will miss you tremendously. Congratulations on your retirement! 
Attitude & Professionalism 
Your enthusiasm for the work you do doesn't go unnoticed. You make the workplace a better place to be.

You are an incredible representative of our company. Thank you for all you do to ensure our clients/customers are happy. Please know that we hold you in high esteem!

Thank you for always communicating with such swiftness and clarity. It makes working with you an absolute pleasure. 

Very few people can bring such high energy to work everyday like you do. It's a testament to your positive attitude and high level of professionalism. 

The work that you do exemplifies your commitment to our company's mission and values. We're so lucky to have you.
Personal Contributions
You have a unique perspective that always brings fresh ideas to the table. 

Thank you for speaking up during the meeting. You had valuable insight to share.

I see how you're striving for professional growth. You're sharpening your skills and developing your talents. I deeply appreciate your level of commitment. 

Your attention to detail ensures that every project goes off without a hitch. I admire and appreciate such a high level of precision. 

Your honesty and integrity are a great reflection of your character. Thank you for always standing up for what is right.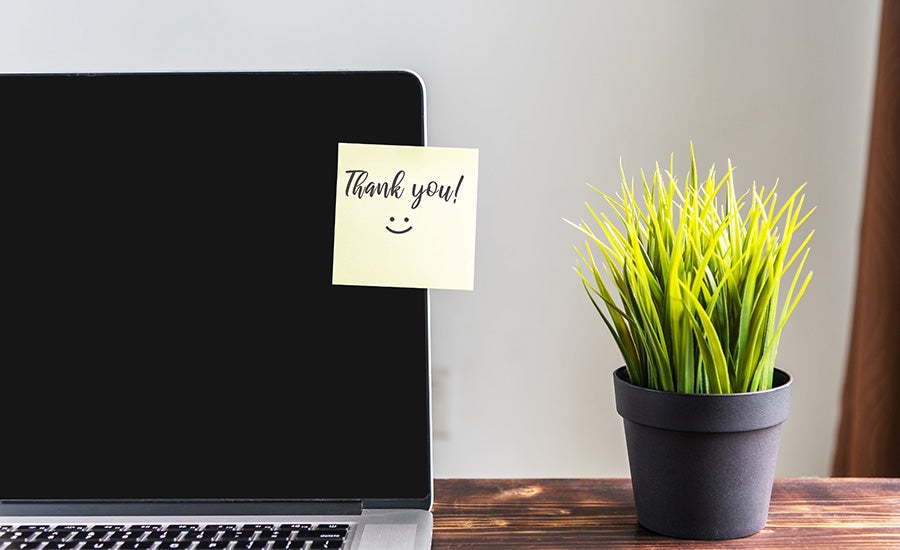 Appreciation Quotes For Work
Ready to enhance your messages of thanks? Include a relevant quote to inspire. Here are some related words of wisdom to get you started.
"Striving for success without hard work is like trying to harvest where you haven't planted." ― David Bly

"The dictionary is the only place that success comes before work. Work is the key to success, and hard work can help you accomplish anything." ― Vince Lombardi

"No one is more cherished in this world than someone who lightens the burden of another." — Joseph Addison

"I can no other answer make but thanks, and thanks, and ever thanks." – William Shakespeare

"Feeling gratitude and not expressing it is like wrapping a present and not giving it." -– William Arthur Ward

"Appreciation is a wonderful thing. It makes what is excellent in others belong to us as well." — Voltaire
Thank You Team Quotes For Work
Whether you're searching for inspiration from a familiar name or the words to eloquently voice how you feel, these quotes are the perfect way to thank your team for a job well done. Pair them with a personalized message that says 'thank you for your hard work' to let your team know just how much you appreciate them.
"Talent wins games, but teamwork and intelligence win championships." – Michael Jordan

"You need to be aware of what others are doing, applaud their efforts, acknowledge their successes, and encourage them in their pursuits. When we all help one another, everybody wins." – Jim Stovall

"Great things in business are never done by one person; they're done by a team of people." – Steve Jobs

Coming together is a beginning. Keeping together is progress. Working together is success." — Henry Ford

"Not finance, not strategy. Not technology. It is teamwork that remains the ultimate competitive advantage, both because it is so powerful and rare." — Patrick Lencioni

"None of us is as smart as all of us." — Ken Blanchard

"The strength of the team is each individual member. The strength of each member is the team." – Phil Jackson
If you're looking for a platform that supports all types of employee recognition, it's time to learn more about the Terryberry 360 Platform. We're ready to help you make sure all your employees feel appreciated and valued! Contact us to get started today.