In this video, get a peek at how Terryberry's revolutionary 360 Recognition platform works.  It's one hub for every one of your employee recognition platforms.  360 Recognition makes employee recognition simpler to manage, interactive and personal for your employees, and more effective for your business.
The 360 Recognition platform revolutionizes the way employee recognition works in the workplace.  It houses all of the recognition programs under one roof – service awards, peer recognition, sales awards, and more.  360 Recognition also makes it easy to expand recognition programs over time and add new recognition programs as businesses grow. It increases the efficiency, consistency, and impact of recognition programs overall.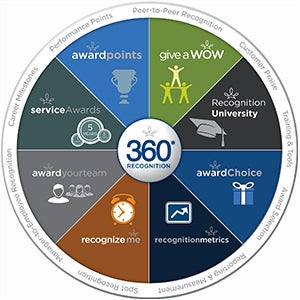 360 Recognition Platform Features:
A single hub to house all of your recognition initiatives from one easy-to-manage platform
Recognition Programs that work together – unlike stand-alone programs, the 360 Recognition platform allows your recognition programs to interact for better performance.  Service awards, peer recognition, "spot" appreciation, and performance awards share visibility for optimal recognition
Support Your Culture of formal, informal, and day-to-day recognition
Powerful Metrics and Measurements help you easily spot rising stars and assess engagement within individuals, departments, and your organization as a whole.
Plug and Play as Needed– easily add in recognition programs as you go.