360 Recognition Organizes All of Your Recognition Programs in One Easy-to-Use Platform
Recognition is More Engaging and Meaningful for Employees
Programs are Easier to Manage and Monitor
The 360 Recognition platform will revolutionize the way employee recognition works in your organization. House all of your recognition programs under one roof – service awards, peer recognition, sales awards, and more. 360 Recognition also makes it easy to expand your already effective recognition programs and add new recognition programs as you grow. You'll increase the efficiency, consistency, and impact of your recognition program overall.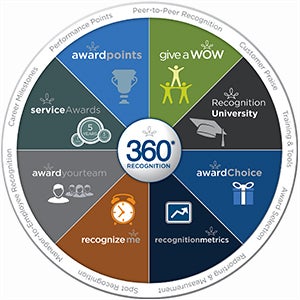 Terryberry has worked with companies large and small to help them acknowledge and reward employees for their hard work and commitment. With our comprehensive Integrated Recognition Platform, we can help your organization do the same.
360 Recognition Features:
A single hub to house all of your recognition initiatives from one easy-to-manage platform
Effective employee recognition programs that work together – unlike stand-alone programs, the 360 Recognition platform allows your recognition programs to interact for better performance.  Service awards, peer recognition, "spot" appreciation, and performance awards share visibility for optimal recognition
Support your culture of formal, informal, and day-to-day recognition
Powerful metrics and measurements help you easily spot rising stars and assess engagement within individuals, departments, and your organization as a whole
Plug and play as needed - easily add in recognition programs as you go
Terryberry is dedicated to helping clients turn their workplace into a WOW workplace. We can help you develop effective employee recognition programs that meet your specific goals. From start to finish, Terryberry can help you:
Design and implement a tailored solution for your employees and your business
Acknowledge significant achievements with service and performance recognition
Encourage and reward daily contributions with on-the-spot and peer recognition solutions
Provide custom awards for every achievement level that reflect your organization's image
Manage all recognition from one easy-to-use Recognition Dashboard
Communicate important details about your program to your employees
Train your managers on the importance of recognition and how to do it right
Trust Terryberry with all of your employee recognition needs. Contact us today to learn more about our Integrated Recognition Platforms.