The Terryberry team has been hard at work this year renovating our social recognition platform. In order to best serve our clients, we've upgraded our interface to be more intuitive, more user-friendly, and more robust. The social recognition platform you know and love just got even better.
We've built the Terryberry social recognition platform to tackle three key areas many companies struggle with in today's environment: build culture, create engagement, and drive performance.
We achieve this through a holistic program that puts the user first. This new platform streamlines the recognition process and houses all of your key programs in one place.
Peer-to-peer recognition
Designed to look and feel like popular social media sites you know and love, our upgraded social recognition platform is more user-friendly than ever before.
Find co-workers in the platform's company directory, or by clicking their name as you come across them while scrolling through the wall. Then, recognise individuals or tag a group of people in a post. Write a message and choose to include a gif from the new gif library. Individuals can then comment and reply on posts to drive more personalised engagement.
Employees can also download the social recognition phone app and give recognition anywhere, any time. This is a great way to reach deskless employees and drive engagement company-wide.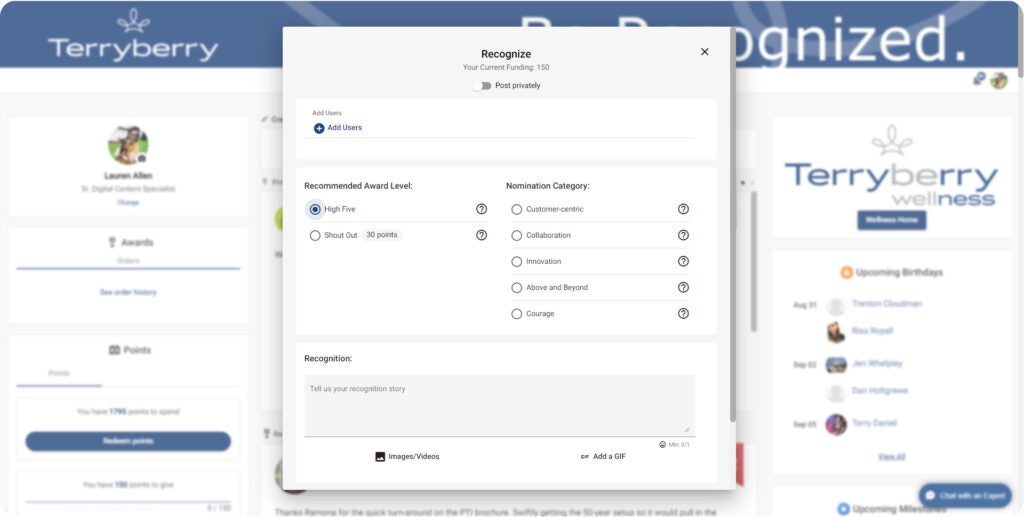 Manager and Leader Recognition
Managers are still able to give out point- and non-point-based recognition, but now it can be public or private. We know that while everyone wants to be appreciated for their work, not everyone wants to be in the spotlight. So, for those employees who prefer a more subtle nod, we've built private recognition.
Recognition Awards
Our social recognition platform is fully integrated with our reward platform. When employees are awarded a service or milestone award, they're able to seamlessly redeem their award for a gift of their choosing through our online storefront.
Additionally, a points-based system for recognition allows employees to give, save, and spend their points for gifts/experiences at any time. Allowing this point exchange to happen throughout the year, creates a gamified experience that excites and engages employees.
Automated HRIS feed
Our new social recognition platform integrates with your HRIS or payroll system to create each employee's profile. It then also organises them into a directory where employees can be categorised by country, location, facility, department, team, or cost centre.
When profiles are created, we also map the employees' direct manager to create a behind-the-scenes hierarchy of your organisation.
Chat and collaboration integrations
The new platform is also integrated with the popular workplace collaboration and communication tools, Slack, Microsoft Teams, and Outlook.
This integration allows social recognition notifications to appear within Slack, Teams, and Outlook. Also, now users can actually send recognition through these platforms as well, creating a seamless workflow that leaves no recognisable moment lost.
Employees utilising Slack, Teams, or Outlook can turn notifications on through their settings in their social recognition personal profile. This will immediately notify them through Slack, Teams, or Outlook when they receive recognition, receive points, all company announcements, and more.
The notifications will include links allowing them to jump directly to the recognition moment or their 360 Recognition inbox within their company's platform.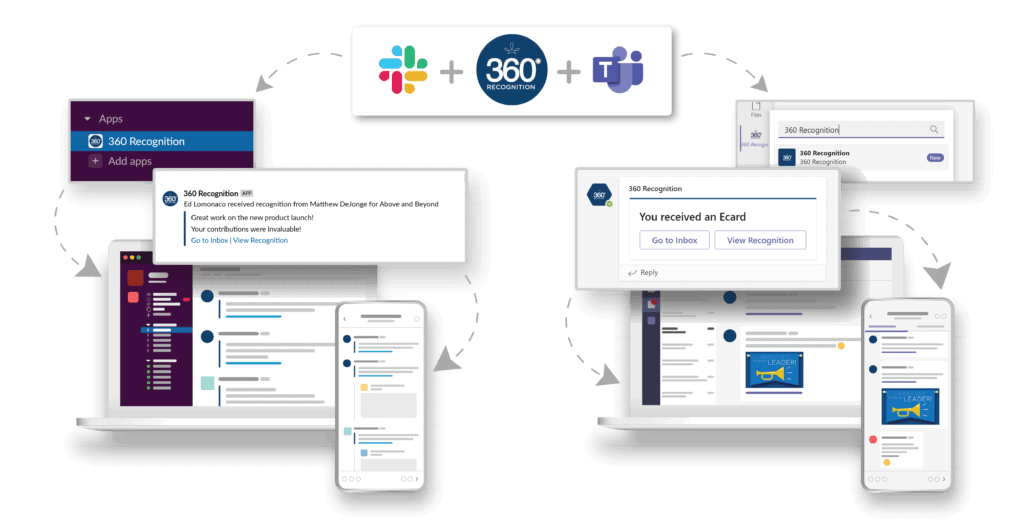 Employee communication
Post and pin need-to-know announcements at the top of the social recognition feed so everyone is sure to see them when logging into the platform. When published, announcements are also then emailed company-wide. Choose to leave announcements up indefinitely or set them for a specific time frame to be removed automatically.

Program engagement analytics
Our new and improved reporting tools will have easy-to-read interfaces that highlight and present the most important data derived from the user activity on the site. This will allow managers and leaders to track employee engagement, award redemption, points funding, manager participation, and more.
Dedicated Customer Success Team
We dedicate a customer success team to each of our social recognition clients. This team gets to know your company, and your needs and is there to ensure your goals are being met.
Your customer success team will be able to offer expert recommendations, suggestions, and support throughout your entire recognition journey, moulding your program specifically to your company's mission, vision, and values. We know choosing to invest in recognition can be a significant commitment and we never want you to feel left behind.

Plus more exciting features!
Manager notifications
Program reporting tools
Single sign-on compatibility
Public or private birthday
Personalised text, email, and push notification options

Ready to Get Started?
Our 360 platform is designed to incorporate social recognition, performance awards, milestone awards, and communication channels all in one place.
If you're interested in learning more about our updated social recognition software, contact us to learn more or schedule a demo.
Check out our other exciting offerings:
Reward platform offering experiences and charitable donations