It's widely accepted by successful leaders that employee recognition incentives correlate with higher employee retention.
In fact, Great Place to Work surveyed nearly 2 million employees across small, mid, and large companies and found that the single most important driver of great work was employee recognition.
But it can be hard to find where to start when brainstorming employee recognition ideas. Unlike programs of the past, modern employee recognition programs need to be more than a plaque on the wall or a pat on the back.
Recognition awards need to be relevant to the person receiving them. They need to be timely, and they need to be specific.
So, ready to get started?
10 Employee Recognition Ideas That You Can Start Implementing Today
1. Offer Lunch
It's probably the most obvious way to show appreciation, but it's still a good one. Providing lunch for your team is a thoughtful gesture that shows you notice the work they do every day.
Just be sure the food fits the employees. If you have a health-conscious team, they might appreciate clean food over, say, pizza. Or if you have vegetarians (or other dietary restrictions) be sure to include options for them. If some people are left out, it undermines the gesture.
2. Start Meetings with Positivity
If you don't already, try starting meetings with a few positive notes. Recognise team and company "wins" and call out people by name.
This small gesture will show your team that you're not only paying attention to the work they do but that you also appreciate what they do.
3. Recognise Employees' Personal Achievements
Remember, your employees have lives outside of the office where they may also be doing great things. Maybe they just bought a house or are taking a class. Maybe they volunteered on the weekend.
Following up with your employees about their achievements outside of work is a small way to so that you care about them as a person, not just an employee.
4. Consider Investing in Employee Skills
If you have a team member who has a spark for a certain aspect of their job, consider investing in it. For example, you may have someone on the marketing team who has an interest in social media.
Offering to sponsor a social media course will allow your employee to grow and develop in their career. This will show your team that you care about their happiness and their future.
5. Celebrate Birthdays
It may seem trivial to celebrate birthdays in a professional environment, but when done right, it can make people feel appreciated.
While some people will embrace the attention, others shy away from it, so just be sure to cater your acknowledgement to the person. Something as simple as a signed card or a coffee shop gift card can be enough to celebrate in an understated way.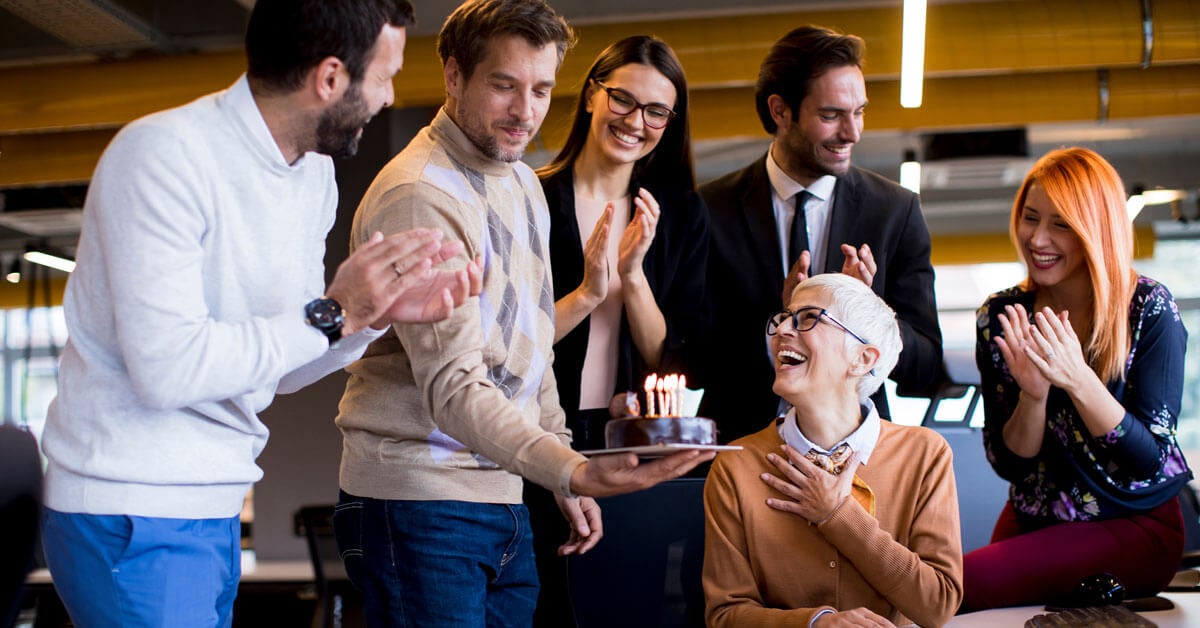 6. Utilise Social Media
When recognising an employee, consider pushing it out on social media. Do a small interview, highlight a project win, or share a fun fact ­– there are tons of creative ways to utilise social media platforms.
This can be a great way for people on other teams to get to know employees in other departments, while also humanising your company to clients.
7. Have an Employee Appreciation Day
The official Employee Appreciation Day is the first Friday in March, but you can do yours whenever works for you.
Depending on your facility, this could be a day with outdoor activities, food trucks, and live entertainment. Or it could be an off-site team outing to a baseball game or arcade. This is a great opportunity to ask your team what they'd like to do.
Related: 15 Creative Employee Appreciation Day Ideas
8. Start Using an Employee Recognition Platform
There are many recognition platforms available today. Terryberry's 360 Employee Recognition platform is an extensive solution that allows companies to create a purpose-led program.
This platform includes milestone and service awards, social recognition, employee benefits, as well as communication tools to keep employees connected across departments and offices.
9. Give a Day Off
Even if you love your job, we could all use a day off. After meeting a particularly challenging goal or winning a big project, why not give your team a day off?
Just be sure to reiterate why you're giving a day off and call out people by name. Tying the reward to the cause is important to reiterate employee recognition.
10. Send a Care Package
In the world of hybrid work, this could be a great way to make remote workers feel seen and appreciated.
Put together a care package with a few items related to the reason the employee is being recognised. Mix branded and non-branded items to keep the package feeling relevant yet personalised.
RELATED: How to Build Employee Engagement in a Hybrid World
While these employee recognition ideas are great to implement into your company culture, remember consistency is the most important part of recognition. And when in doubt, ask your employees what matters to them and act on it.
Interested in learning more about how your company can benefit from a recognition program? Schedule a demo of Terryberry's 360 Recognition Platform today.