The festive season is fast approaching! The weather's getting colder, the days are getting shorter, and employees are looking forward to a reset and recharge, ready for next year. Now it's time for employers to appreciate and recognise staff for their achievements over the past year. Whether your organisation delivers Christmas gifts to staff or organises a festive office Christmas party, gifting recognition is crucial this Christmas.
Appreciating staff for their accomplishments is necessary for organisations all year round. Forbes revealed that 66% of employees would leave their organisation if they experienced no appreciation for their work. Recognising staff makes them feel valued and engaged in your organisation.
Recognising and rewarding staff this Christmas will bring your team satisfaction and massively benefit your organisation. Recognition is a significant source of motivation for many employees. A motivated team can boost performance and reduce employee retention within a business, creating a win-win situation for all.
How to recognise employees this Christmas
Both staff and employers experience stress during the final few months leading to Christmas. Whether your team is dealing with looming deadlines or mountains of orders waiting to be shipped, your staff will have their hands full. What better way to say thank you than a luxury gift to celebrate the holiday season?
Staff Christmas gifts are a great way to support your team this year. With the increased cost of living making things difficult for all of us, many employees will feel the pinch this Christmas. Christmas gifts for staff are a great way to help their money go further this Christmas.
Whether you're gifting essential supermarket vouchers or giving an employee something they really need, employees deserve appreciation this Christmas.
Christmas gifts for staff are also an effective way to motivate employees and build loyalty in the new year. Showing recognition can be a good reminder and boost for returning employees that their organisation values them, inspiring employees for the year ahead.
How to Celebrate Christmas With Employees
Not every organisation can offer staff Christmas gifts; each organisation is different, as are their needs. So it begs the question, if you're not delivering Christmas gifts to employees, how can you celebrate Christmas with your employees?
Terryberry has put together an office Christmas celebration shortlist to keep the whole team high-spirited and engaged this festive season.
A Classic Christmas Party 
One of the most popular ways for organisations to celebrate with their team is by hosting a Christmas party. Parties can be held on or offsite and can be an excellent way for employees to unwind and relax with each other.
For those working remotely or in different offices elsewhere in the country, organisations could include them by offering to pay for transport and a hotel. This is a great way to improve staff satisfaction and build a better and more connected team.
Another common way organisations celebrate Christmas is by participating in a secret Santa. Whether serious or not, colleagues exchanging gifts can be another great way to build close connections with employees and allow staff to enjoy the festive celebrations.
 Ugly Christmas Jumper Day
Everyone has an ugly Christmas jumper, whether they'll admit it or not. Dressing up in festive jumpers one day in December can be an excellent way to get staff in the Christmas mood leading up to the festive break.
Christmas Decorating Competition 
Another way to bring Christmas spirit into the office is by running a decorating competition. A competition to see who can decorate their workspace the most festive is a great way to bring the Christmas spirit to the office.
Finally, providing Christmas gifts to staff builds your team's spirit and motivates them to finish the year strong. Organisations can offer in-house gifts or use a gift provider like Terryberry to provide employees with a range of gift options. Terryberry allows employees to choose their own gift; all you have to do is choose the budget.
Why Should You Let Staff Choose Their Own Christmas Gift?
When it comes to staff Christmas gifts, some employers may buy a hamper, and that's job done. Unfortunately, not everyone wants a festive hamper or even a new set of cutlery. Giving employees a choice to choose their own gift is a great way to provide them with what they really want. It also turns out that it's relatively beneficial to employers too.
Providing staff Christmas gifts through Terryberry can save employers a significant amount of time. The impossible task of finding a gift that suits everyone isn't needed. Instead, employers must choose what budget they want for their employees, and they can do the rest. This saves employers time and money and leaves staff satisfied.
Valued Employees
Empowering your employees to pick the right Christmas gift for them makes team members feel valued. It shows that your organisation thinks of the team as individuals rather than just employees. Valued employees are more engaged and motivated, influencing performance and impacting staff retention.
Providing the right gift is important for businesses. Previous surveys have revealed that 56% of employees did not like their Christmas gifts. This costs employers money and leaves staff dissatisfied. Letting employees choose their Christmas gifts will reduce the chance of this happening and leave staff satisfied.
Terryberry offers a extensive range of gifts for each budget, with something for every team member. Having a choice of Christmas gifts for staff is especially beneficial this year. With the increase in cost of living, having the option to choose gift cards for various high-street shops and supermarkets is invaluable. Supporting your employees with gift cards for essential shops can help money go far this Christmas.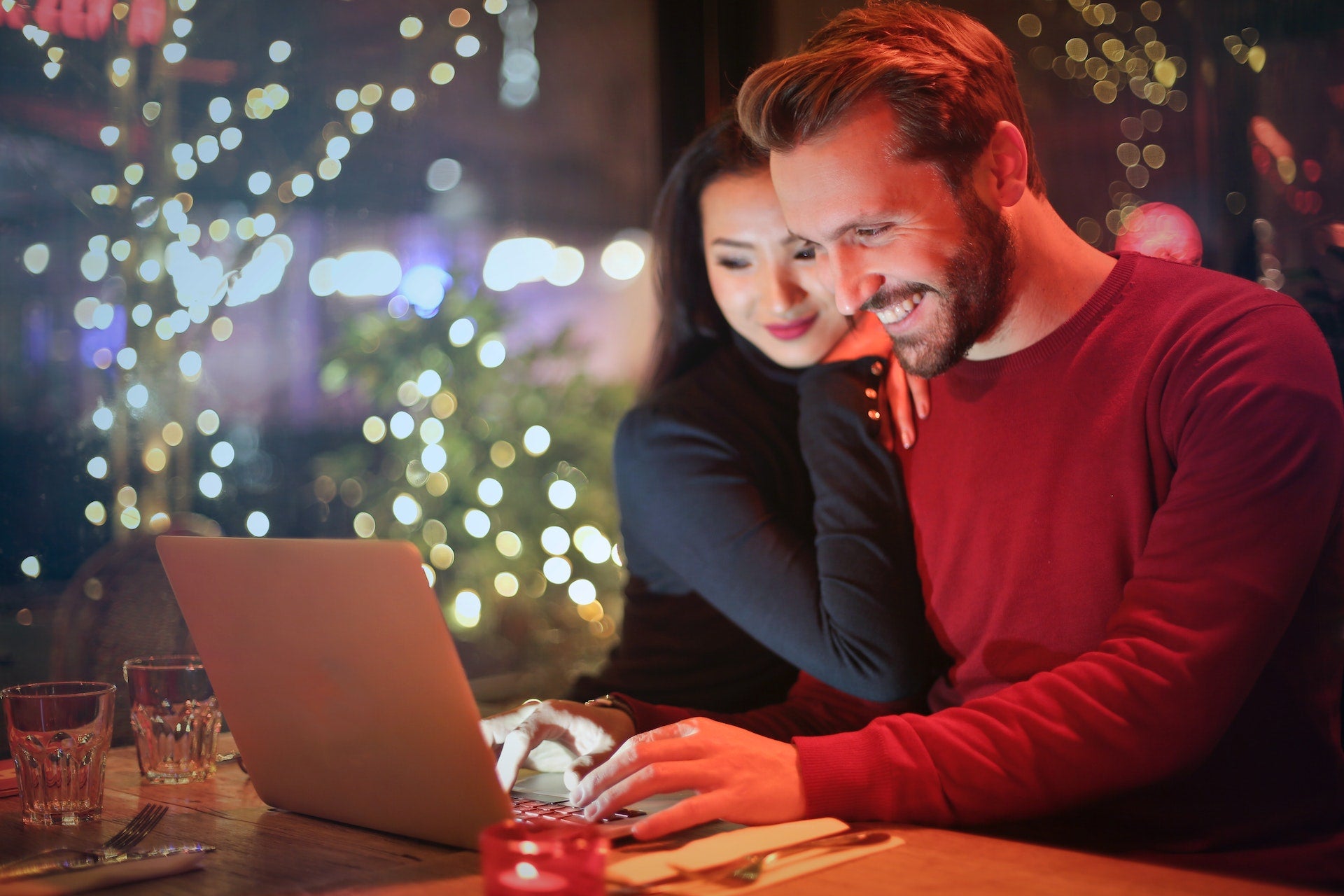 Christmas Gifts For Staff Made Easy 
Create your own branded gift selection website with Terryberry.  Add your logo, custom background, and a welcome message for your employees. Terryberry's gift selection website, Aspirations, offers a range of gifts, from supermarket and high-street vouchers to watches and jewellery, depending on your organisation's selected budget. Once your employees have chosen their gifts, Terryberry handles delivery, communication and aftercare, so you have nothing to worry about.
Here's how it works
Set your budget starting from £25 per employee
Personalise your gift selection website, add your logo and a welcome message for your team congratulating them on a successful year
Send your recipient list.
Let Terryberry handles the rest!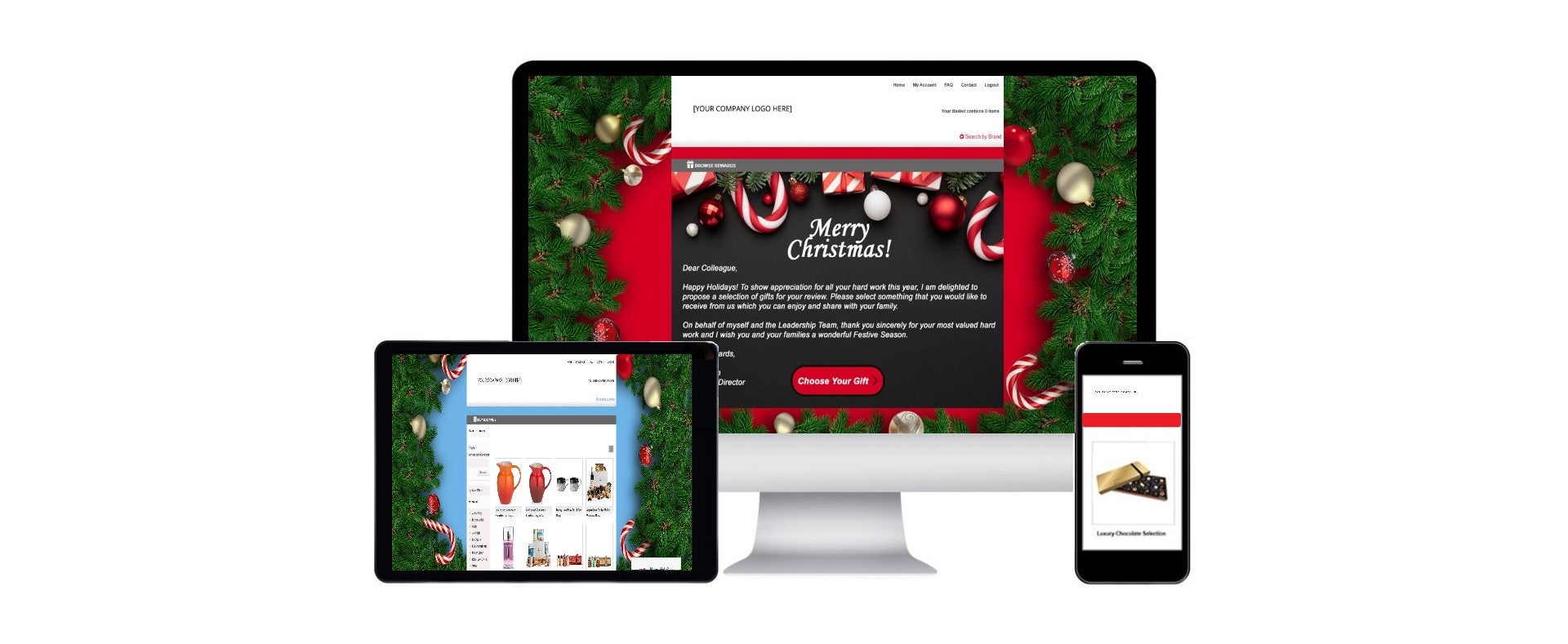 Terryberry creates a personalised gift selection website branded for your organisation. Your employees will receive a welcome email with a gift selection link. There, they will see your personalised appreciation message and a range of excellent gift choices. After they've selected their gifts, your team can relax as Terryberry takes care of delivery and aftercare.
Are Christmas gifts for staff tax-exempt?
Depending on your situation, your staff Christmas gifts may be tax-free if it costs £50 or less to provide. This tax benefit is known as a trivial benefit and isn't required to be declared to HMRC. Therefore organisations are exempt from paying national insurance tax on the benefit offered.
Certain conditions need to be met for a benefit to be considered a trivial benefit. The conditions stated by the UK government are as follows.
The cost to provide the benefit is £50 or less
The reward isn't cash or a voucher
The benefit is not a reward for employee performance
The benefit does not appear in the employee's contract
What's new in 2022
The gift selection for your employees depends on your selected budget. Choose from £25, £50, £75 or £100 gifts for your employees. The selection of gifts varies depending on your budget. Our demo site allows you to see the full range of gifts for each budget, letting you know what gifts your team could select.
Here are some of the popular and new gifts we have to offer this year.
Gift Cards
No other gift option offers as much choice as gift cards do. Often seen as the boring option, gift cards offer your employees complete control over what they choose.
Our selection of gift cards covers popular supermarkets, including M&S, Tesco and ASDA, helping your employees save money at their favourite shops. Additionally, your employees could choose Love2Shop cards, which are redeemable at various stores, including Currys PC World and Argos.
With the cost of living affecting all of us, gift cards are especially significant as you can help your employees save more on what they need this Christmas. Gift cards are available for your staff to choose, no matter your selected budget.
If you would like to include gift cards, there is an additional £5 charge per recipient who selects one of these options. This charge covers the processing of gift cards. Other luxury products incur no extra cost.
Christmas Hampers for Staff
Christmas hampers are one of the most popular Christmas gifts for staff as they come packed with a mixture of festive and luxury food and wine. Our selection of hampers varies depending on your chosen budget; however, each hamper is filled with luxury food and beverages to give your employees a taste of luxury as they recharge this Christmas.
Experiences For Your Staff
Are gift cards or hampers not your thing? What about a spa treatment? A supercar driving session? Or even your own 30-minute flying lesson? All of these experiences and more are available for your employees to choose from. Each budget includes different experiences, including a mixture of entertaining activities and the opportunity to relax and unwind over the Christmas break.
Luxury Gifts
Sometimes you deserve to be spoilt, and this is a perfect opportunity to show staff how much you appreciate them by offering a range of luxury gifts to choose from. Our selection of gifts ranges from jewellery to crockery to electronic gifts. No matter your staffs needs, there's something for everyone.
Christmas Gifts For Customers
Along with Christmas gifts for staff, Terryberry provides a gift selection service for your customers too! Gifting your loyal and important customers is a great way to show your appreciation and say thank you. Similar to employee Christmas gifts, satisfaction is guaranteed when you let your customers choose their own gifts.
As with employee Christmas gifts, the range of your gifts will depend on your budget. Choose a budget starting from £25 per customer, and personalise your own gift selection website to help strengthen your business relationship.
Get Started 
Contact us to learn more about how you can recognise and appreciate your employees this Christmas. For all other employee benefits, milestone awards, and social recognition needs, see our effective 360 recognition platform.