How much of our motivation happens in the forefront of our mind vs. behind the scenes? According to Daniel Pink, there is clear evidence that we are DRIVEN by autonomy, mastery, and purpose. Are we always thinking about these things on a daily basis? What types of things can we do to keep our drive up? At Terryberry, we are in the business of DRIVE. We want to go deeper into what motivates people and keeps them performing at a high level both personally and professionally.
We interviewed top performers regarding what drives them and how they provide motivation to their teams. The comments that we received were very much in line with some of the research that we've seen. It is healthy to take a step back and re-examine what is driving you. Consider what new things you can incorporate into your life to help you reach goals. What interesting tidbits did our interviews produce?
Autonomy
"There is freedom in helping others in both your personal and professional life."
"There is no other type of true leadership than Servant Leadership"
"I want to make enough money so that my family is comfortable and I can have great experiences with them, but money is not a primary motivator."
Mastery of Motivation
"My reputation drives me. How am I viewed as a person and a professional? How people see me influences their view of our company."
"I am motivated by new challenges and figuring out a way to do things better" "I am working at my highest level when I'm slightly on edge and thing aren't going perfectly."
"Fear of failure is real. It drives me to be more creative and make sure that that I see things through that I want and need to be successful."
Purpose
"I want my team to feel like they are part of something bigger than themselves, so I have tried to be creative with their roles and given them freedom to work within their strengths." "When it warrants, I have given them equity in the business so that they feel ownership in what they are doing."
"I found it boring to have success alone and crave having success as a team."
"Mentorship is one of my favorite parts of the job and something that motivates me."
As leaders, one of our key responsibilities is to understand our team members. When we learn the motivation factors of our people to be at their best, we can create work environments that both nurture and inspire.
About the Author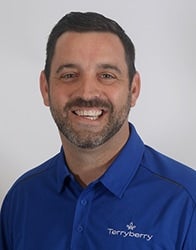 Mike Kelleher leads Terryberry's Honoring Performance Division, which specializes on helping clients develop programs for goal-based performance recognition, including sales incentive programs, safety recognition, and channel partner programs. Kelleher has developed effective performance recognition programs for clients like La-Z-Boy, GM and many others. He is also recognized as Terryberry's undisputed Jump Rope expert.