Northwest Texas Healthcare System is comprised of five facilities and 1900 employees serving patients in and around Amarillo, Texas. NWTHS believes in instant, daily, monthly and annual recognition for contributions that reflect their core value of Service Excellence.
To facilitate and encourage staff recognition, NWTHS implemented a Give a WOW program for peer-to-peer recognition. All levels of employees— support staff, techs, RNs, secretarial, physicians, and senior administration — have access to the program and are encouraged to participate by giving and receiving recognition.

Patients and families can also nominate a staff member for recognition.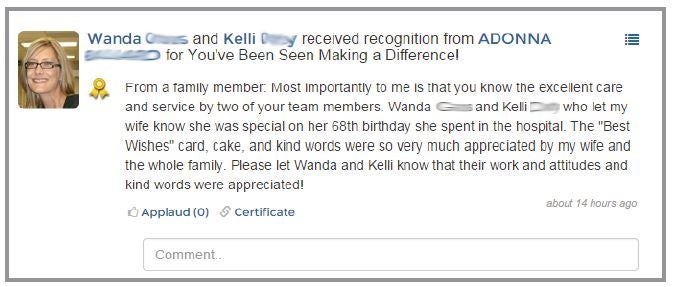 The Give a WOW program is accessed through the NWTHS intranet, as well as a free smartphone app for employees. These tools make the program accessible to employees with or without a desk workstation.
New employees are introduced to the Give a WOW program during orientation. The program remains visible on an ongoing basis through monthly departmental celebrations, and monthly acknowledgment of winners. An online Recognition Wall displays every nomination, and is updated instantaneously and visible
to all employees on the app and intranet site.
Recognition is aligned with core values and based off of NWTHS Service Excellence standards. #1 Treat Everyone as a Guest, #2 Demonstrate Professionalism in all we do, #3 PracticeTeamwork. Employees can receive non-monetary recognition, tangible awards, or NW bucks to use in the café and gift shop.
The Results: The program has exceeded expectations for participation and engagement. In the month of December NWTHS had over 1900 nominations.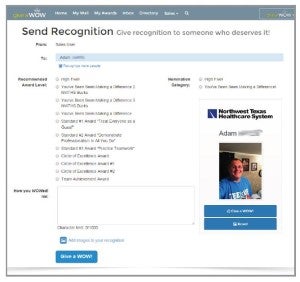 Learn More
360 Recognition Platform
Give a WOW Peer Recognition Module
 Customer Praise Module
Read Other Case Studies