Employee Service Award Gifts
No Matter What Inspires Your Recipients, The Recognition Collection Delivers More WOW!
The Recognition Collection is one of Terryberry's most popular corporate services awards programs. Employees choose an award they will enjoy from a collection carefully selected for their quality, appeal and motivational impact. You simply set a budget for each achievement level. The award levels in the Recognition Collection allow you to appropriately reward and recognize any achievement, from beginning employees to career highlights. View Award Options
Highlights of the Recognition Collection – Employee Service Award Gifts
Turnkey Recognition Program- easy to implement and run
Personalized Awards - your company symbol crafted from jewelry quality materials can be added to any award
14 Award Levels - choose the fit for your budget, starting as low as $45 and high-end awards for the most significant contributions
Earth-Friendly Awards Options
More Choices Than Ever - Brand names from Kate Spade, Tumi, Bushnell, Skil Tourneau and more
Online Award Selection using AwardChoice.com
Custom Employee Service Awards Catalog Available - display your logo, message, and custom award selection
Worldwide Shipping with online order tracking and best on-time delivery in the industry
Dedicated Local Customer Service - no-hassle returns, 24/7 call center available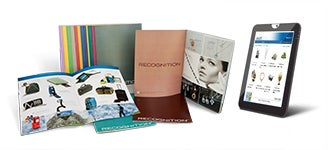 More Corporate Service Awards Choices
14 award levels offer more awards than ever for the diverse preferences of everyone in your group. Each award is tastefully customized with your company's emblem to reinforce the symbolic connection. 
The Recognition Collection is the perfect solution for years of service awards, sales incentives, performance achievement, or even company gifts. Contact us for more info about how to get started. 
Recognizing and rewarding your employees can make your workers happier, more satisfied at their jobs, and more motivated and motivating in the workplace.