"Employee wellbeing" may sound like a buzzword, but don't be fooled - its impacts can reach all areas of your business. Get your employees' wellbeing right, and all the other dominos will fall into place. Get it wrong, and you risk high turnover, low engagement, and low morale.
Your employees are your business's most important asset. Regardless of the revolutionary products or services you may offer, you can't build a company without a team. And people in chairs don't make a team - happy, engaged, and productive employees do.
How to ensure your employees' wellbeing is supported? That may be easier said than done, but we're here to help.
Below, we'll walk through everything you need to know about employee wellbeing in the workplace.
What Is Employee Wellbeing in the Workplace?
Employee wellbeing refers to your employees' holistic wellbeing at a given moment. Keep in mind, wellbeing isn't just about physical health. While physical health is important, it's just one of five components Gallup found to be essential to an employee's wellbeing. Here are the five essential categories:
Career Wellbeing: Finding joy (or simply liking) the work you do daily and the people you work with.
Social Wellbeing: Having solid relationships with friends, family, and colleagues.
Financial Wellbeing: Feeling in control of your economic life and managing your personal finances effectively.
Physical Wellbeing: Having a healthy lifestyle, energy, and positive mental strength.
Community Wellbeing: Finding engagement and happiness in the geographic area you live in or with like-minded people nearby.

RELATED: 50 Wellbeing Activities: What Are They, Why Are They Important, and Examples
Tom Rath and Jim Harter said it best: "These elements are the currency of a life that matters. They do not include every nuance of what's important in life, but they do represent five broad categories that are essential to most people."
Your business has a direct impact on all of these elements in your employees' lives. Your goal as an employer is to provide an environment and opportunities to boost your professionals' overall wellbeing and not to do anything to potentially damage it.
The culture you cultivate, the policies you implement, and the expectations you generate all affect the five core components of your employees' wellbeing.
Why Is Employee Wellbeing Important to Your Business?
While these wellbeing elements might seem like personal issues in the lives of your employees, they impact your business, too. Unhappy, unhealthy employees lead to lower engagement and lower productivity-and that's bad for your bottom line.
To be clear, you're not in charge of your employees' wellbeing-there are other factors outside of work that contribute to that, as well. And ultimately, your employees own these areas of their lives. However, you do have an opportunity (and responsibility) to influence it for the better.
Here are a few figures that show just how important employee wellbeing is to your business:
How to Improve Employee Wellbeing (8 Ways)
There's no one-size-fits-all approach to improving employee wellbeing at your business. Your employees will have unique challenges depending on your business, industry, colleagues, culture, and geographic location. It's up to you to observe, survey, and listen to your employees to find the problems so that you can provide the best remedy.
Below, we've outlined a few ways to improve employee wellbeing in the workplace.
1. Launch a Holistic Employee Wellbeing Program
Avoid the temptation to jump into action immediately. You might be able to put bandages on the problems, but you likely won't be able to improve the long-term health of your employees.
Instead, collaborate with your executives and managers to create a holistic employee wellbeing program. Work together to identify the issues most plaguing your workers. That might be long hours, social isolation, mental health, fear of feedback, or elements of a toxic culture. Once you identify the problems, you'll be better positioned to implement solutions.
Don't just throw out additional perks and benefits. Those can be nice, but if they're not solving your employees' actual problems, they won't make a difference down the road. With each change and improvement you make, identify which of the five elements you're seeking to improve and outline, what it'll help your employee achieve, and how it will accomplish it.
2. Recognise Employee Performance and Milestones
A core way to improve your employees' career and community wellbeing is through a recognition program. Show that you recognise and appreciate their contributions to your business. Celebrate when an employee goes above and beyond, and demonstrate that you value tenure when an employee reaches different milestones with your business.
While it's great to recognise your employees from the top down, it can be even more powerful when it comes from their peers. A peer-to-peer recognition program lets your employees recognise each other-showing that it's not just management that cares; it's the entire business.
RELATED: Peer Recognition: What is it and What are the Benefits
3. Create Healthy Feedback Loops
Create an environment where employees feel safe receiving and sharing feedback. Employees like to meet often with management-they don't want to wait until the end of the review cycle to learn they've been doing something inadequately.
Research shows that most employees prefer weekly one-on-one meetings, with the next best option being monthly. Use these opportunities to recognise employee accomplishments and give them areas to improve. When the review cycle comes around, they should already know the outcome based on their regular meetings with their manager.
RELATED: How to Give Constructive Criticism: 6 Tips For Giving Criticism the Right Way
4. Make Employee Wellbeing a Priority
Wellbeing programs aren't an expense-they're an investment. Studies show that employee wellbeing programs have an average 150% return on investment. While any wellbeing plan is better than nothing, we recommend going the professional route with a state-of-the-art program.
For example, here's what Terryberry's wellbeing program provides you and your employees:
Automatic tracking: Make it easy for employees to track their activities and automatically convert workouts into trackable elements.
Social tools: Enable your employees to comment, post photos, and message each other within your application.
Mobile app: Let your employees take their wellbeing initiatives on the go with a top-notch mobile app.
Segmentation features: Build teams, break out into departments, or keep it a head-to-head competition across your entire business.
Dashboards: Track the long-term trajectory and real-time status of all your employees with easy-to-use dashboards.
Integrations: Sync your wellbeing program with your employees' devices, whether that's iPhones, Androids, Garmins, Fitbits, or others.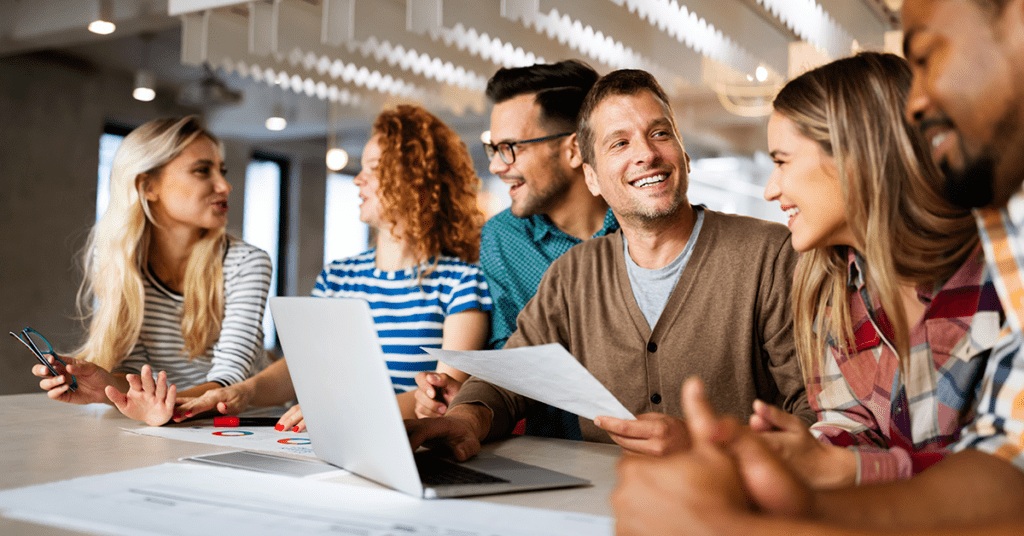 5. Focus on Culture
Employee wellbeing shouldn't be an afterthought-it needs to be baked into your culture. Everyone from your executives to your managers to your individual contributors should care and make it a priority.
For example, an employee should be celebrated for working out during a lunch break, rather than possibly rebuked for being late to a one-off meeting. Encourage your employees to take time for mental health with regular breaks for a walk around the office, meditation, or breathing exercises.
These aren't distractions. They're productivity and wellbeing boosters. Remind employees to take them and make health a priority.
6. Build a Safe Workplace for All
Build social and community wellbeing in the workplace by creating an environment that's safe for all your employees. Encourage employees and management to create employee resource groups (ERGs) to help foster a diverse, accepting workplace.
Your ERGs can work together to voice opinions and identify issues that your business can solve. For example, an LGBTQ+ ERG might request gender-neutral bathrooms or more inclusive language in meetings. And a disability ERG may ask for better wheelchair access or handicap-opening doors.
RELATED: 5 DEI Best Practices: What You Need to Know About Diversity, Equity, and Inclusion in 2023
7. Encourage Healthy Habits
Make being healthy in the workplace an easier decision for both your in-office and remote employees. Here are a few things you can do for in-office employees to encourage healthy habits:
Healthy snacks in the breakroom
Desks that allow employees to sit or stand
Membership to a nearby gym
Water fountains around the office
Dedicated space for yoga or meditation
And here are a handful of things you can try for remote employees:
Monthly wellbeing stipend
Access to mental health resources
Provide regular opportunities for breaks
Help your employees prevent work from spilling outside of regular hours
8. Implement Wellbeing-Boosting Policies
Your employees are responsible for taking their health and wellbeing into their own hands, but you can implement policies and culture changes to make this easier. Here are a few wellbeing-boosting policies you can consider:
No meeting Fridays: Meetings can get in the way of productivity. Give your employees a break on Fridays with a guaranteed meeting-free day. They can take this time for focused heads-down work to crank out assignments and get the creative juices flowing.
Calendar etiquette: Ask your managers and employees to respect co-workers' calendars. Never schedule over existing blocks on the calendar (if possible). Start a conversation before throwing an inconvenient time on someone's schedule.
No work on the weekends: Ask your employees to try and work during normal Monday through Friday workdays. While work flexibility might have them working weekends sometimes, try not to make this a habit-your employees need a break, and sometimes they need your help taking one.
No messaging after or before hours: Nobody wants to wake up to a work email or see a Slack notification right before they go to bed. If employees work flexible hours, ask them to schedule their messages to be sent during regular work hours to prevent ruining someone's morning or evening.
Additional time off: Give your employees additional time off for themselves. This might be an extra holiday, or it could be a long weekend.
Uplevel Employee Wellbeing at Your Workplace With Terryberry
Ready to make employee wellbeing a priority at your workplace? Partner with Terryberry to make it happen. We provide the following to boost employee wellbeing, engagement, and happiness at your business:
Schedule a demo with our team for a walkthrough of how Terryberry can transform your employees' wellbeing.