On Thursday 22 June 2023, the Bank of England again increased its interest rates to 5% [1], causing significant concern amongst the public as incomes continue to be eroded during this well documented cost of living crisis [2].
Who is affected?
The people most affected by rising interest rates are those with loans or mortgages, particularly if they are on variable rates, as they will see their payments increase while their income remains stationary, representing an overall decrease in their net pay.
How an employee benefits platform can help affected staff.
Businesses can support their employees in weathering this storm by providing employee benefits programs that are tailored to increase their net pay without the need for a pay rise. There are many ways in which this can be achieved, and some solutions that can be implemented within our market-leading employee benefits platform are detailed below.
1. Offer pre-loaded debit cards as bonuses for exceptional performance.
Rather than increasing the employee's pay for a month which could tip them into paying higher levels of tax, giving them a bonus in the form of a pre-loaded debit card allows them to benefit from the bonus in a tax-efficient manner. They can spend the funds as and when they need to.
2. Provide gift vouchers or access to special offers and discounts.
By offering employees the ability to purchase gift vouchers at below retail rates, or providing them with access to special offers and discounts at a range of retailers, they can make savings on their everyday expenses of up to £3000 a year. This represents a significant increase in their disposable income, which can, to a certain extent, mitigate against rising interest rates.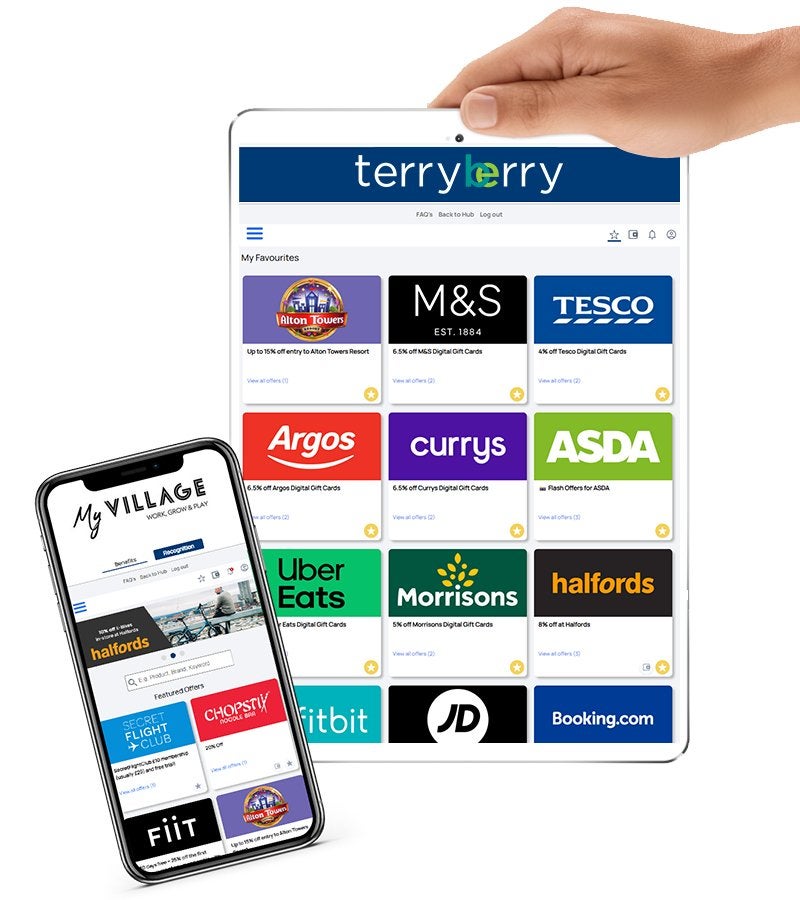 3. Salary sacrifice schemes.
Salary sacrifice schemes reduce an employee's take-home pay by an agreed amount, reducing their tax and National Insurance contributions and providing them with a non-cash benefit to compensate for the reduction. This can include childcare vouchers, cheaper transport options such as cycle to work and the green car scheme, and even spreading the cost of everyday purchases such as technology and electrical equipment.
Why it is important to increase an employee's disposable income?
Financial stress is said to affect 37% [3] of the UK's workforce, with 20% of employees reporting that their money worries affect their productivity at work. When employees are stressed, they become less engaged and more inclined to take time off work. This has a detrimental effect on their output and that of the wider team.
Any reduction in productivity can create a major burden for businesses which are likely to see increased rates of absenteeism, reduction in morale, reduced loyalty and potentially an increased rate of attrition as staff seek alternative employment in an attempt to address their underlying financial concerns.
It is not always possible to increase an employee's pay in line with inflation whilst maintaining a profitable operation. As such, it is crucial that businesses wishing to help their staff to weather the rising cost of living identify alternative means by which to increase their employees' disposable incomes.
Choosing an employee benefits platform in the UK.
The most effective employee benefits schemes are those that improve employees' financial position, stress levels and quality of life, both in and out of work. By effectively increasing the net pay of employees, they benefit from an improved ability to absorb higher interest rates and to cover the rising cost of everyday essentials. Businesses benefit from increased loyalty, reduced rates of absence due to financial stress and a stand-out reputation as a considerate and fair employer.
In order to deliver these benefits in a suitably targeted, efficient and manageable fashion, you will need to implement an appropriate employee benefits platform in the UK. Terryberry provides a proven market-leading solution. Our employee benefits platform is tailored to the needs of each client business, offering benefits that are proven to increase uptake, thereby supporting your business and your team.
Unlike employee benefits schemes that offer only financial savings, our tailored solution integrates seamlessly with your existing wellbeing and external benefits packages and displays all of the benefits to which your employees are entitled within a simple, unified app-based interface.
Because Terryberry's team are employee engagement experts, we can help your business to implement a benefits strategy that will deliver lasting results. Our employee benefits programs are industry-leading and supported by our unique insights and experience, ensuring that your business and your workforce can successfully weather the cost of living crisis together.
For more information about how our employee benefits platform will improve the outlook for your business, please call Terryberry today.
Resources:
[1] https://www.bankofengland.co.uk/explainers/why-are-interest-rates-in-the-uk-going-up#:~:text=22%20June%202023-,Why%20have%20interest%20rates%20gone%20up%3F,loan%2C%20mortgage%20or%20savings%20account
[2] https://www.instituteforgovernment.org.uk/explainer/cost-living-crisis
[3] https://championhealth.co.uk/insights/financial-wellbeing-statistics/