Company Identity and Culture – What it is and how to maximise?
Webinar
23/03 | 12:30-13:15
Join us for this 45 min live, interactive lunchtime session exploring company identity and culture. This session is facilitated by Global Trainer; Neil Shorney, of Navanter. Neil has worked with countless multinational organisations on practically improving performance in a realistic way – bringing your people along with you.
During this session, we aim to give you insight into how culture can work in different types of organisations, some practical steps you can take to create a culture within organisational constraints and what solutions are out there.
Agenda
• Company identity vs culture defined
• The 4 types of organisational identity (collaborative, controlling, caring, corporate)
• Finding the clues to your organisation's identity, and how other participants perceive that (positive and negative)
• What do employees want?
• How to maximise your organisation's culture within its identity
• Practical solutions
About our Speaker: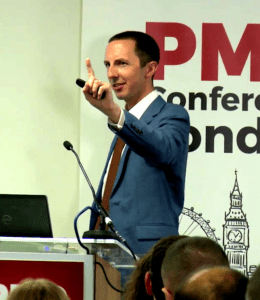 Neil began his career as an Energy Broker for a start-up tech consultancy (EMB Ltd – now part of Accenture), negotiating contracts for major energy users in engineering, pharmaceuticals, retail and sports, such as the McLaren team. Neil rapidly became a subject matter expert on the IT solution itself, and successfully delivered a project to benchmark potential customers' prices against other similar businesses.
From there, Neil moved to ESI International (part of Informa plc) as a salesperson in 2001, working with clients such as Shell, Motorola and Novartis. Neil was promoted to a leadership position in 2003, expanding his sales team to cover the Swedish and German markets. Through implementing an in-depth training programme, Neil vastly increased staff retention, and his team became a launch pad for other roles in the company around the world.
In 2011, Neil established his own training company, Navanter, splitting his time between private training, and a dual role at ESI as both Sales Manager and Senior Training Consultant. Neil's mixed experience in sales and project management, leadership and training, gives him a fantastic insight into how an organisation operates on many levels. As a result, he was instrumental in rolling out a global culture change programme at ESI which brought together staff from across different silos to help them take a more cohesive and collaborative approach to work together.
In 2017, Neil decided to dedicate himself full-time to his own business, where he trains his own clients in sales, leadership, communication skills and project management. Neil has trained professionals from a wide range of industries from Finance to Energy to Pharmaceuticals to Technology, and major institutions such as the European Central Bank and the British Civil Service.
Neil specialises in bringing different parts of an organisation together to create greater alignment and benefit the customer experience.
This event has passed.