Live Webinar
The Vibrant Workplace: How to Overcome Common Obstacles to Building a Positive Workplace
Tue, Sept 12, 2017 11:00 AM – 12:00 PM EDT
Presenter: Dr. Paul White, author of The Vibrant Workplace, and co-author of the best-selling, 5 Languages of Appreciation in the Workplace.
Register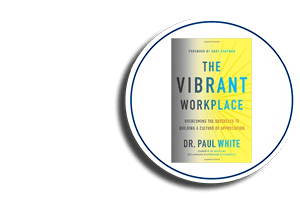 Description: While assisting hundreds of businesses and organizations implement authentic appreciation in their workplaces over the past 7+ years, Dr. White has identified the most common challenges to creating a positive workplace culture. In this webinar, he will describe the characteristics of a vibrant workplace and give an overview of the most common obstacles encountered. He will then highlight two core issues that undermine creating vibrant, positive workplaces and give practical starting points that participants can take to impact their organization positively (regardless of their position in their organization).
As a result of attending this webinar, participants will be able to:
Describe the core characteristics of vibrant workplaces

Identify the most common obstacles faced when trying to create a positive work environment

Comprehend the importance of two core issues that undermine creating healthy, vibrant workplaces

Take practical action steps to begin to make their work setting healthier, and access resources helpful to create change within their organization.
This webcast is free, but spaces are limited, so register today.
This webinar qualifies for HRCI, SHRM and WorldatWork recertification.