Live Webinar
Why You Want to Work in a Vibrant Workplace & Practical Steps to Make That Happen
October 29, 2019 11:00 AM – 12:00 PM EDT
Presenter: Dr. Paul White, author of The Vibrant Workplace, and co-author of the best-selling, 5 Languages of Appreciation in the Workplace.
Register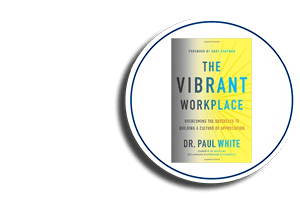 Information about negative and toxic workplaces dominate the media and business communication. But healthy workplaces do exist, and practical steps can be taken to improve and create positive work environments. Dr. White, who has researched and written books on both toxic and vibrant workplaces, will share the components that make positive, vibrant work environments and the practical actions that individuals (regardless of their position in the organization) can take to help their organization move in this direction. 
As a result of attending this webinar, participants will be able to:
Identify the key factors that create negative, toxic work environments.
Delineate the foundational components that help workplaces move toward health.
Understand the benefits that come to organizations and employees in vibrant organizations.
Choose from a variety of positive, practical steps they can take in their day-to-day work interactions.
This webcast is free, but spaces are limited, so register today.
This webinar is pre-approved for recertification credits.