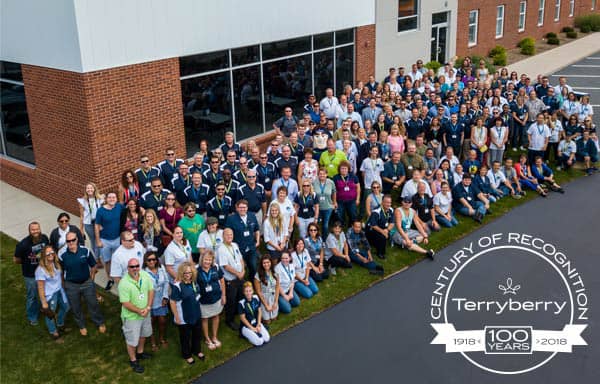 Terryberry: 1918 – 2018, a Century of Recognition
1918: Horse-drawn carriages were still in use, the Great War was drawing to a close, airmail was in its infancy, and the word "teenager" didn't exist.* Yes, a lot has changed in 100 years, and Terryberry has been around to see all of it. This year marks the Centennial of H.R. Terryberry's first startup business. His initial vision: handcrafting beautiful pocket watches for companies wishing to reward their top performers at a time when employee recognition was a novel concept. In fact, Terryberry was one of the very few companies at the time to identify this emerging market and plunge fearlessly ahead into it.
The Evolution of Employee Recognition
Nowadays, pocket watches have been replaced by contemporary awards, online recognition platforms, accolades through social media, and the like. Recognition runs the gamut from onboarding to retirement, from wellness programs to corporate milestones and beyond.
Terryberry attributes its success to its company mission: "… to help organizations provide their people with special recognition for remarkable contributions and achievements. We strive to create a fulfilling and rewarding environment where people achieve their best potential – in your organization and in our own."
Terryberry: Practicing what We Preach
You certainly can't argue with 100 years of success. Focusing on making people feel appreciated seems to be a winning strategy, even within Terryberry's own ranks. Of its 200+ employees, the average tenure is upwards of 12 years, with many employees having remained with the company over 30 years.
"We recognize that it's the dedication and contributions of our team members that have enabled Terryberry to thrive and reach this centennial milestone," said Mike Byam, Terryberry's CEO and 4th generation managing partner who carries on the legacy of his great-grandfather, H.R. Terryberry.
History of Leadership
For a quick trip down Terryberry's memory lane, check out this interview with past managing partners George Byam and Brent Slay and current managers Mike Byam and David Beemer.
While the Centennial festivities have come and gone, you can relive the moments by visiting Terryberry's Centennial Gallery on Facebook.
Here's looking forward to another 100 great years ahead! Viva la Terryberry!
* https://www.goodhousekeeping.com/life/g5177/life-100-years-ago/