Corporate Wellness Challenges
Bringing a fun, social, and motivational program of holistic wellness to corporate environments.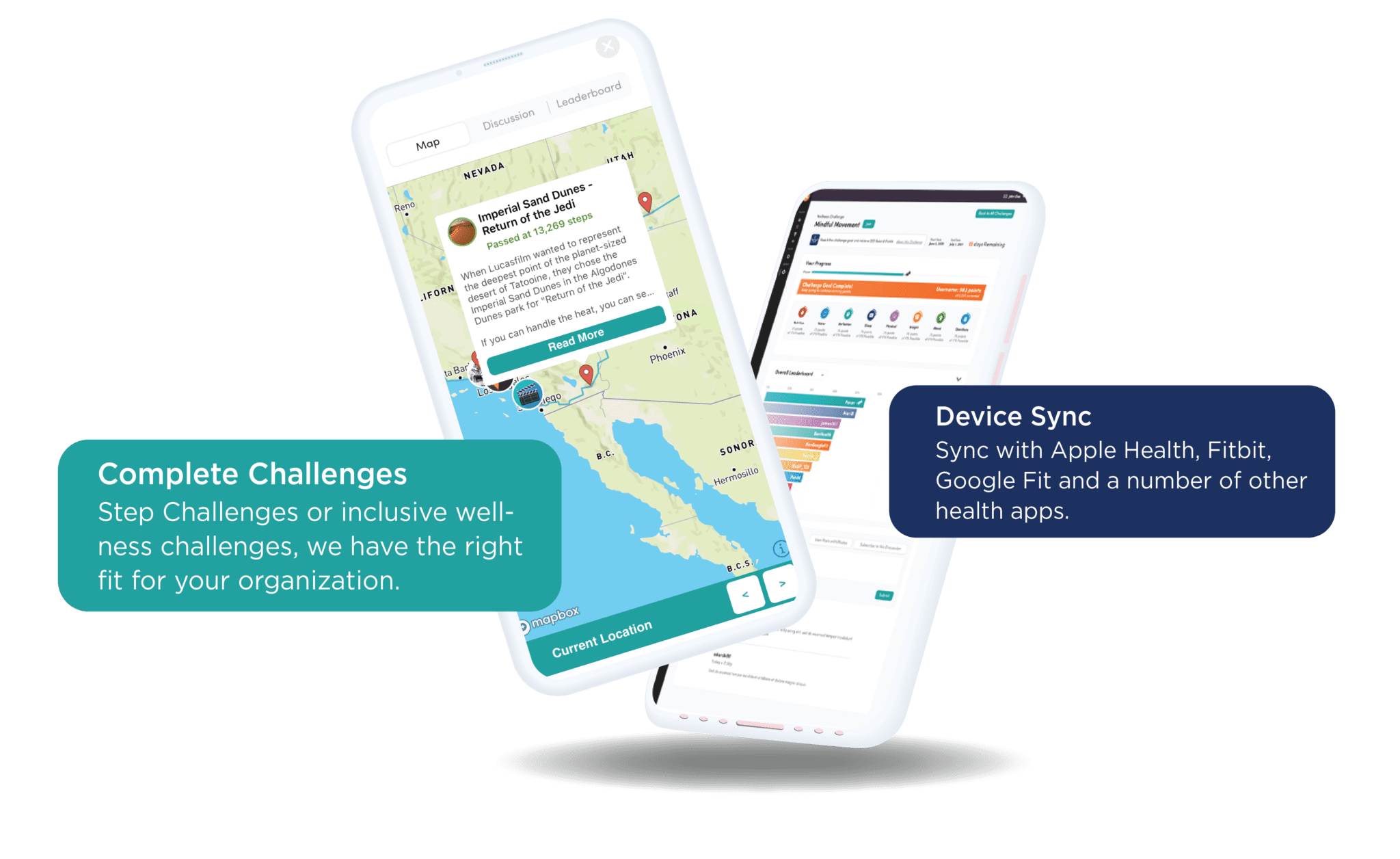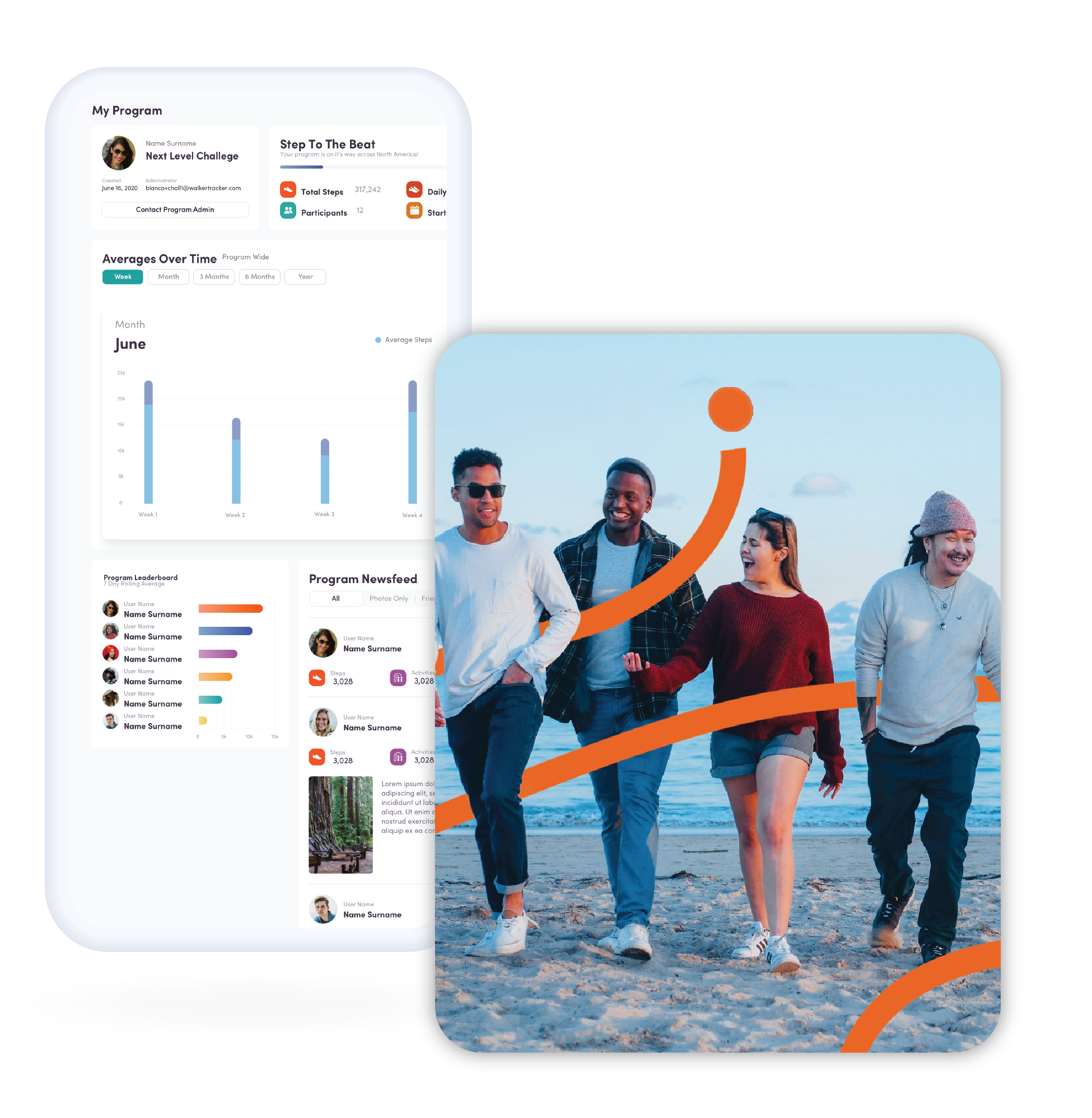 Terryberry Wellness helps you unite your employees around a larger story of shared health through fun and engaging interaction. Our Wellness app is a one-stop tool for launching corporate wellness challenges and allowing you to mentor your employees, monitor their progress, and collect HR data.
How Terryberry Supports Corporate Wellness Program Activity Mentoring
Terryberry Wellness is a next-gen guide through your organization's wellness program. Your employees enter their favorite physical activities from jogging to rock climbing and Terryberry Wellness converts them into steps. Then, as steps grow, the Activity Converter translates these steps into miles. Terryberry Wellness lets you create
a workplace step challenge that focuses on meeting each individual's healthcare journey rather than making them stick to some set of goals without personalization.
A point reward system helps your team keep track of their progress and connect with others who share the same goals. The Terryberry Wellness algorithm automatically assigns points based on time spent, not the difficulty of the activity. This point system evens the playing field so the athletes and beginners on your team can compete on reaching their goals.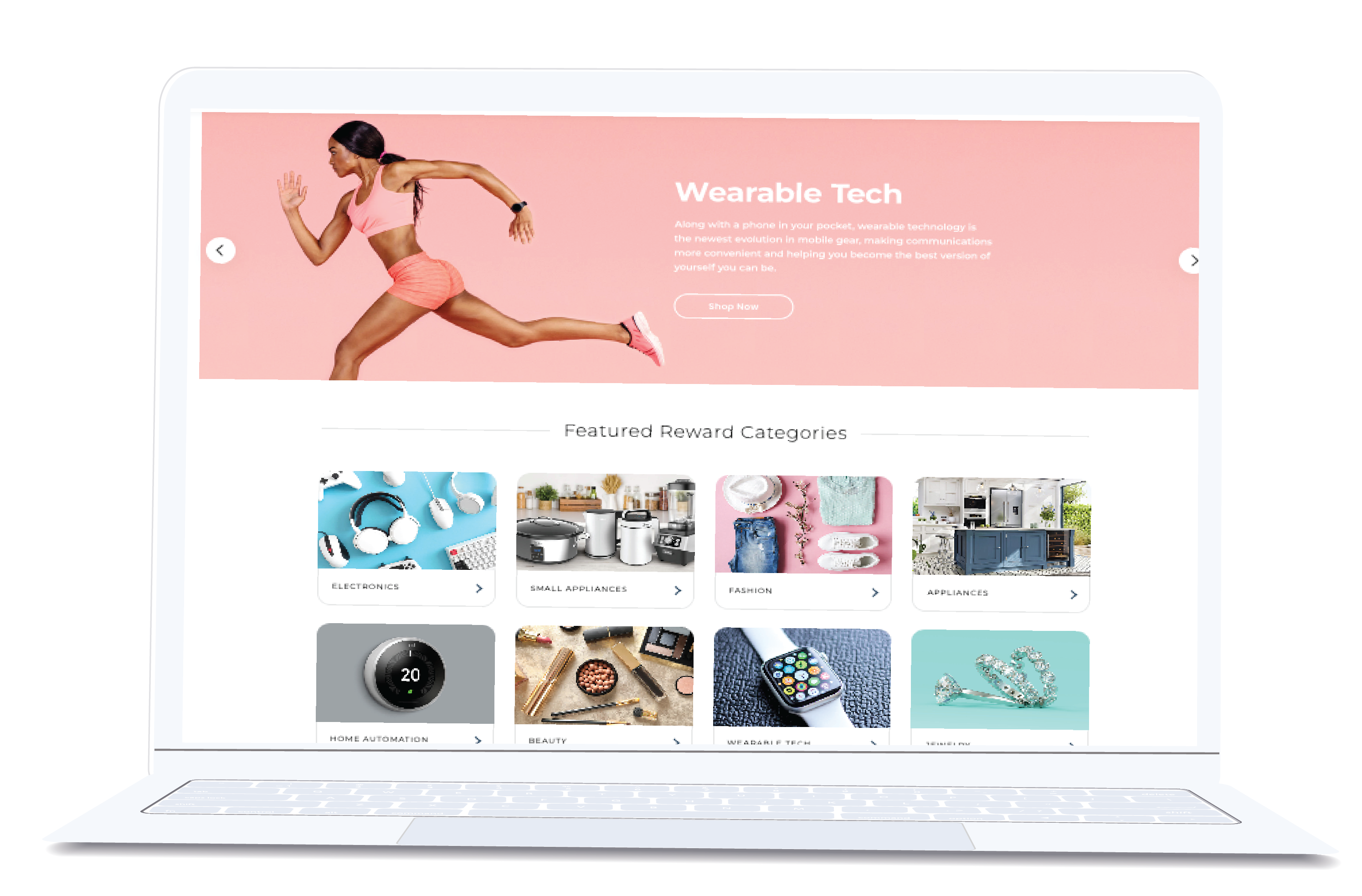 Building A Culture Of Wellness
The CorVel Corporation is a healthcare administration company with a vision for improving the holistic health of more than 3,000 employees at their organization. When the company merged with its subsidiary Symbeo and moved into a new Portland office, the CEO tasked office managers with building a wellness culture.
Management then introduced the Wellness Quarters program, which focused on creating step competitions and shared health goals. Unfortunately, having more than 150 employees participating made this program a burden for office administrators. Employees would email their step counts to management and the administrators would have to manually chart all of the results on a communication wall in the office.
CorVel decided to take this program to the national level but realized that the burden of tracking a company-wide step challenge was too much. CorVel implemented the [Terryberry Wellness powered by] "Walker Tracker software to track activity and create customized challenges designed to build teamwork across the organization. The program was a resounding success with a nationwide wave of participation and easy tracking for administrators.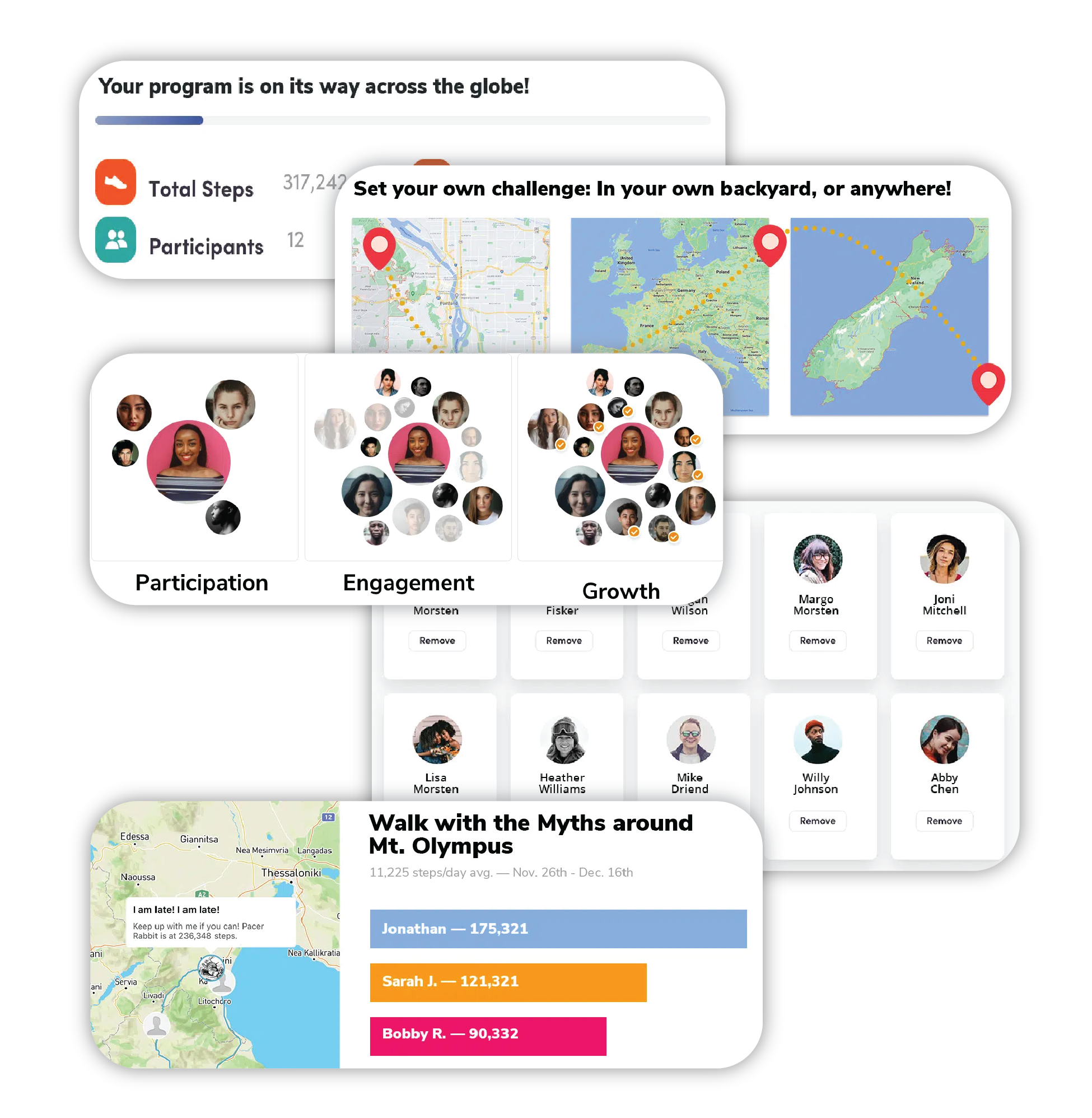 Activity and Wellness Challenges
Terryberry Wellness is more than just a step challenge platform. Our innovative Activity Converter converts hundreds of activities into steps – including wheelchair mobility and rock climbing, allowing everyone of all ability levels and body types to participate in a challenge. It even allows people without a device to enter their activity manually.
Our Wellness Suite lets members track several wellness elements
like sleep, mood, diet, water intake, heart rate, mindfulness minutes, and more. Wellness tracking helps members to stay well by spotting symptoms and providing a full picture of their physical and mental well-being.
Terryberry Wellness also provides you with communication tools like surveys, post-challenge questionnaires, custom emails, in-app messages, push notifications and more. Plus, our appealing virtual maps are based on real-world locations. Proven to be more engaging than charts, these virtual maps feature fun elements like custom pacer icons, milestone markers, and more.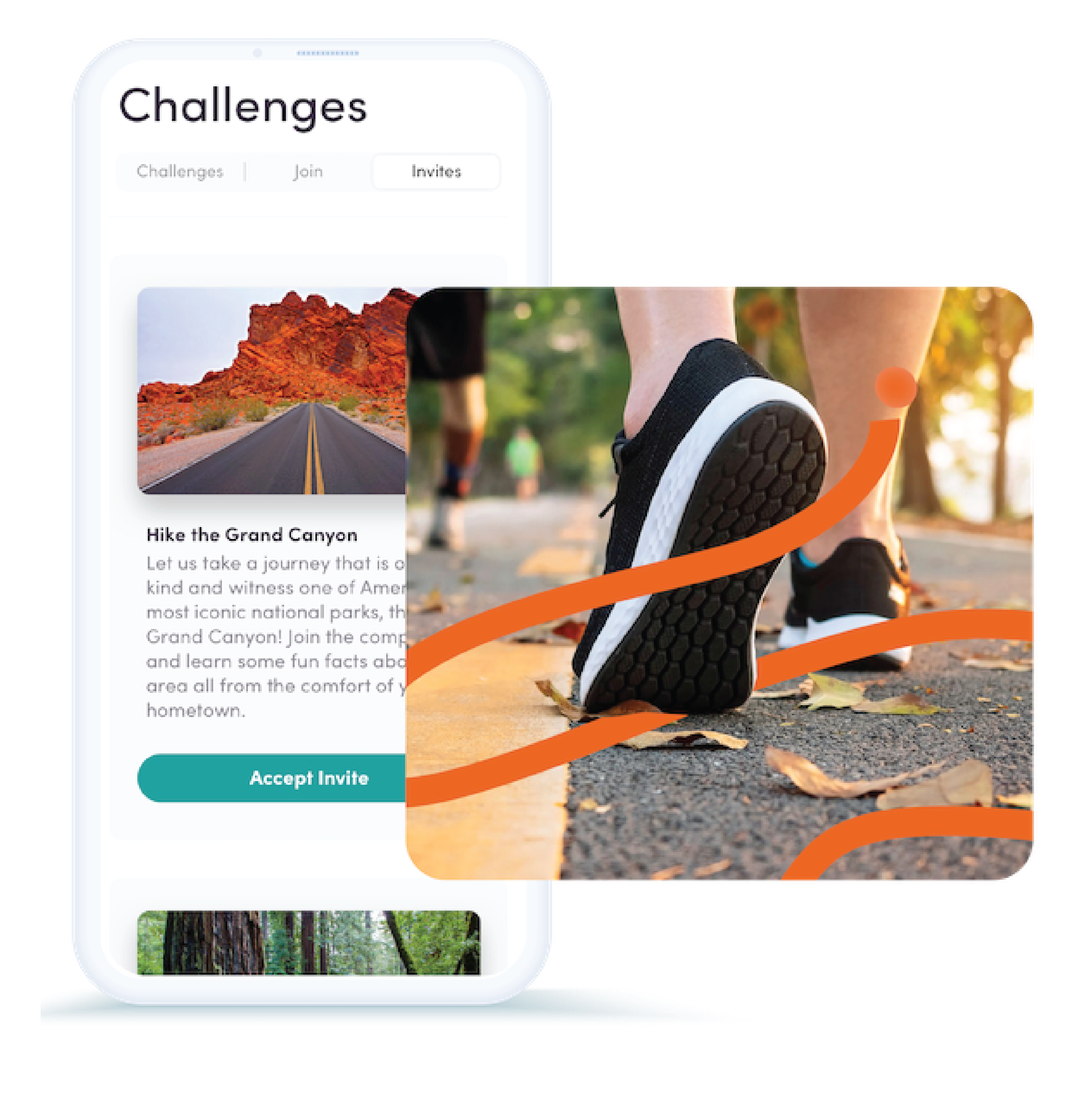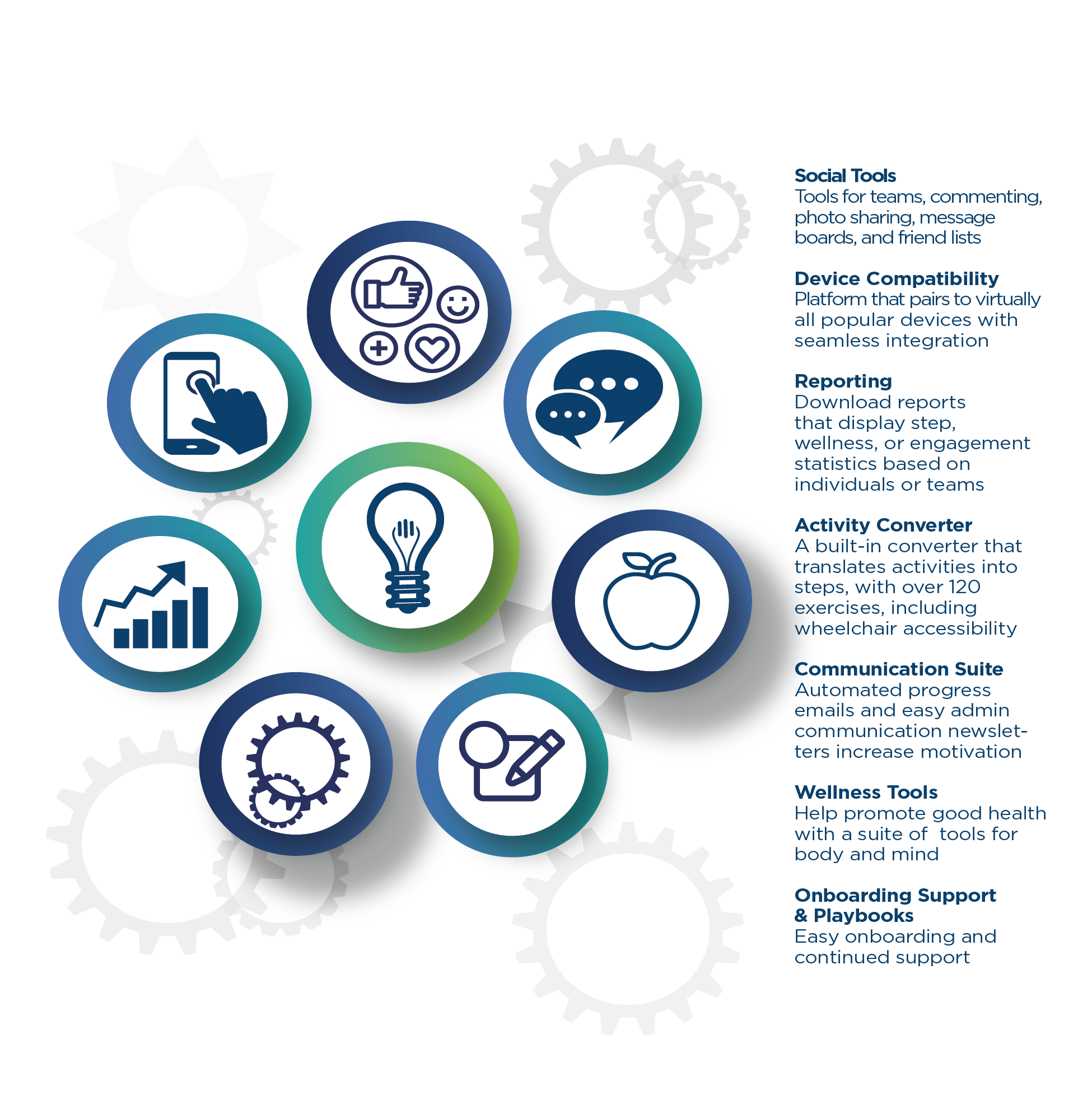 Our Wellness Suite is also a convenient all-in-one hub for your team members to track their health vitals. A few examples of the features include:       
Diet

Weight

Heart rate

Psychological state

Mindfulness minutes

Data Collecting
Health Data, Delivered
Terryberry Wellness is a secure platform for tracking wellness goals across your corporation in a single hub so you can monitor and report performance. It also bridges the gap so people of all athletic levels, ages, and body types can participate in your corporate walking challenge and connect with each other through a holistic health program.
Wellness Challenge Case Study Company Snapshot:  CorVel Corporation 772% participation increase 1,434,807,407 total steps walked (equivalent of 717K miles) 79,940 daily goals achieved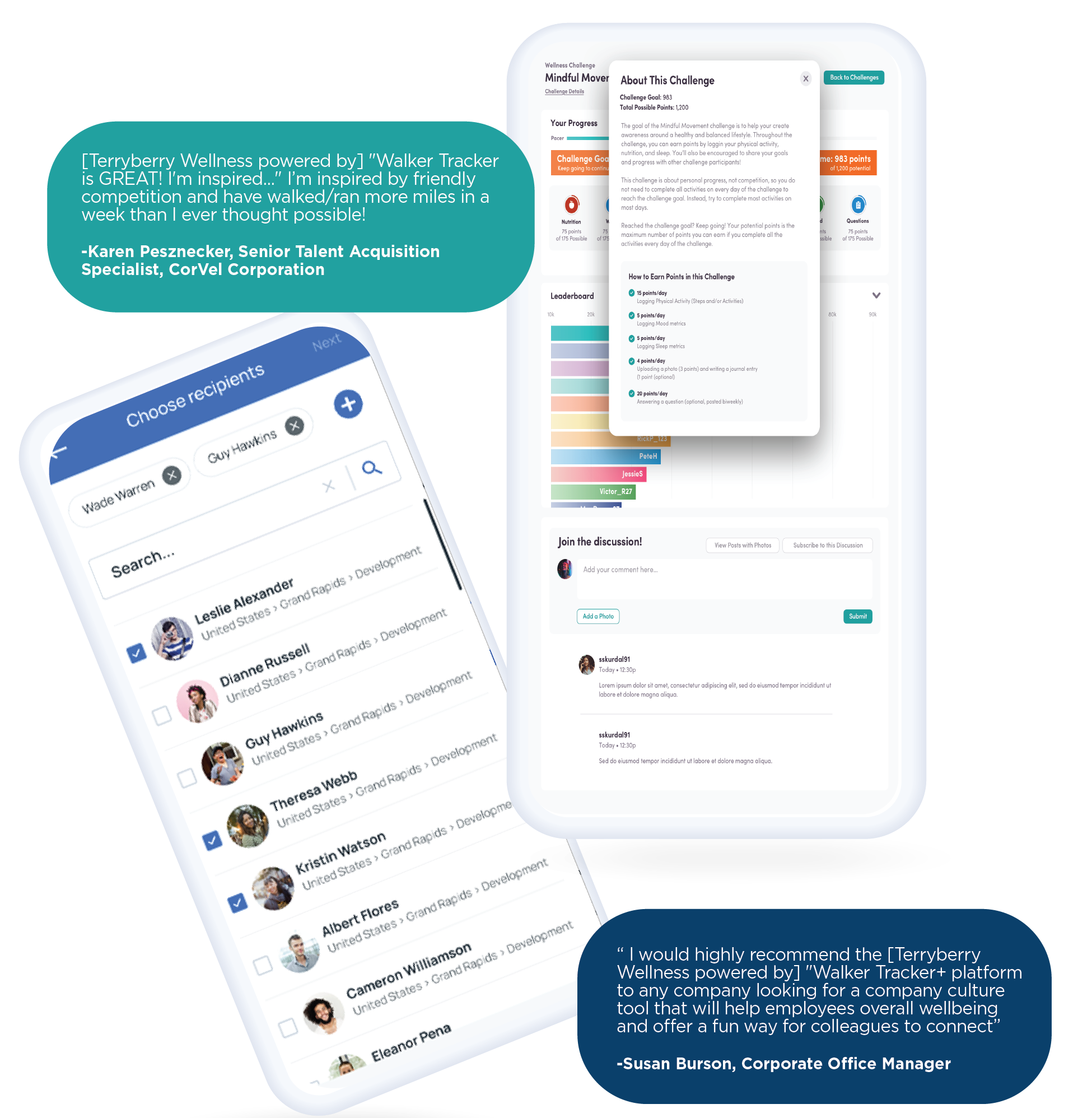 View participation, engagement & growth among staff, volunteers, residents, and other members to learn what's driving results!
Tell Your Story
Terryberry Wellness's virtual maps & mobile apps provide connect people on a common leaderboard. Use milestone markers to share information about your favorite locations!
Privacy First
Your members' privacy is protected from start to finish. We protect data, comprehensively delete data upon completion, and are compliant with privacy standards.
Fun, Healthy Motivation
Make fitness fun with pacer rabbits, virtual maps, social features, informative milestones, and engaging mobile apps that are simple for all ages, devices, and technical abilities.
Include Everyone
Terryberry Wellness activity converter, device syncing, and end-user support ensure that everyone can join the challenge regardless of age, ability level, body type, or fitness level.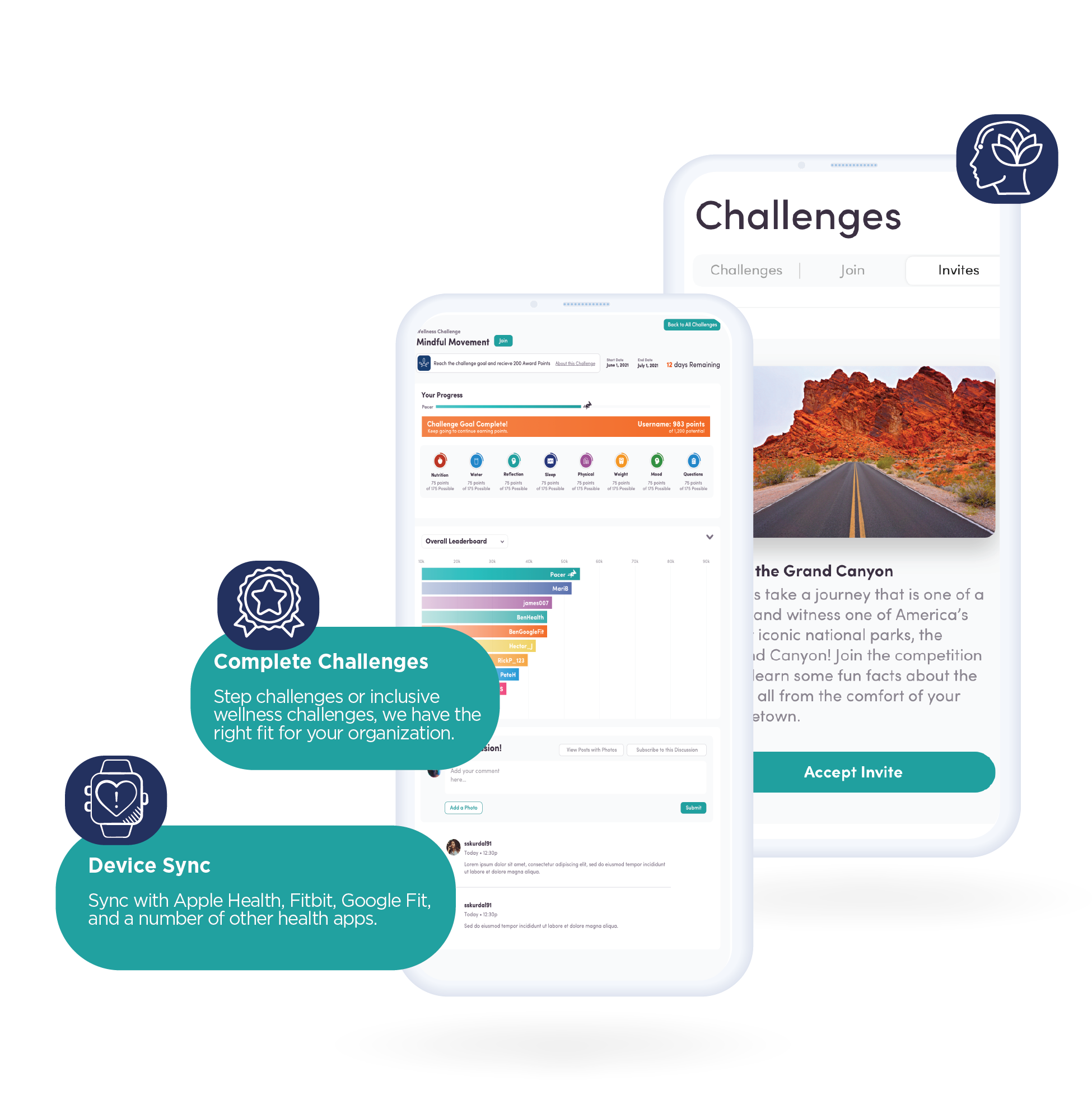 Looking for a step challenge for your organization? Look no further! We have options for every organization size and at price points for any budget.
We look forward to creating a challenge that builds workforce health & happiness!