Live Webinar
Creating an Engaging and Life-Lengthening Workplace Culture
May 30, 2018 2:00 PM – 3:00 PM EDT
Register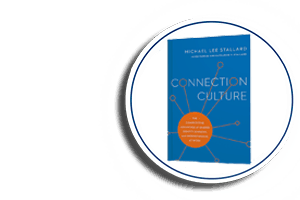 Join Terryberry as they host Mike Stallard, author of Connection Culture, in this hour-long webinar demonstrating how people and organizations need Connection Cultures to thrive and describes ways to connect attitudes, uses of language and behaviors.
Dr. Vivek Murthy, America's former Surgeon General, recently called on organizations to make boosting social connections a strategic priority because America's loneliness epidemic is undermining health, happiness and productivity. Leaders who develop and maintain a workplace culture infused with connection so that people feel included, supported and part of the team, see a marked difference in performance.
Employees who feel connected to people at work are not only healthier and happier, they are also more productive, more engaged, and less likely to leave their employer. This is especially important today as connection is the greatest felt need of the millennial generation and essential to attract, engage and retain people in the millennial generation.
In this webinar, participants will learn:
The types of relational cultures in organizations
Which workplace culture is life-giving and which cultures drain the life out of people
7 universal human needs to thrive at work
Which culture is the key to attract, engage and retain millennial employees
10 practices to create a workplace that may lengthen your life
Presenter
Michael Stallard is president of E Pluribus Partners and Connection Culture Group. He speaks, teaches, and serves as a consultant to leaders in a wide variety of business, government, healthcare and higher education organizations. Michael is the primary author of Connection Culture: The Competitive Advantage of Shared Identity, Empathy and Understanding at Work and Fired Up or Burned Out: How to Reignite Your Team's Passion, Creativity and Productivity as well as a contributor to several other books. He is a regular contributor to or his work is written about in leadership media worldwide including the Financial Times, The New York Times, The Wall Street Journal, Forbes.com, Entrepreneur.com, FastCompany.com, SmartBrief, and FoxBusiness.com. Michael guest lectures at several universities and institutes in North America and Europe and is a faculty member at the Institute for Management Studies.
This webcast is free, but spaces are limited, so register today.
This webinar qualifies for HRCI, SHRM and WorldatWork recertification.