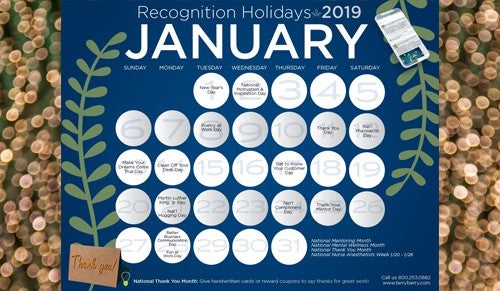 2019 Recognition Calendar of Holidays
Recognition Holidays are around each and every corner. Lucky for you, Terryberry did the research. Feast your eyes on the official Recognition Holiday Calendar 2019 Edition! Download the full calendar as a PDF or browse holidays by month.
You'll find well-known days, such as National Boss's Day in October and Administrative Professionals' Day in April, but you'll also find some lesser-known recognition holidays that can be fun to celebrate.
For example, have you ever celebrated "Do Something Nice Day👍" or "National High Five Day🙏"? Maybe this is the year to start some fun festivities and yearly traditions in your office.
National High Five Day is April 18
Does your team work all around the world? Send a virtual "high five" with a "job well done" appreciation note. With Terryberry's social peer to peer program, employees can give and receive recognition for great work in real time. Camaraderie will be felt no matter the distance.
Employee Appreciation Day is March 1
Make someone's day! Show your team you sincerely appreciate all of their effort, hard work, dedication, patience, teamwork, and all-around wonderfulness. Need some inspiration for Employee Appreciation Day 2019? Check out this for some fun ideas on ways to celebrate.
Celebrate your employees like a #boss.
Recognition will always be current. Unlike trends, fads, or some of this year's holiday gifts, appreciation never goes out of style. Terryberry has the tools and resources to help you create a customizable recognition program for your organization today.