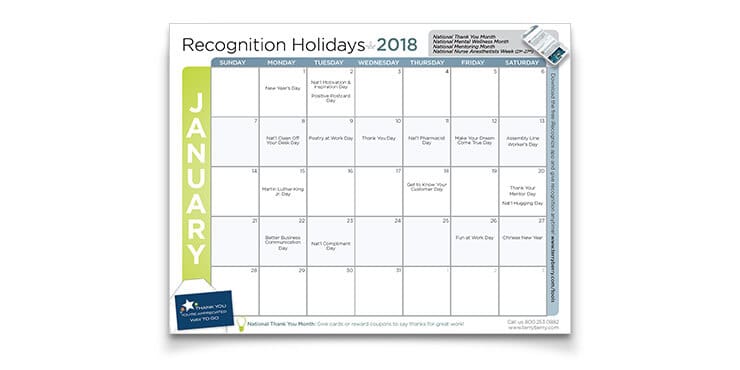 2018 Recognition Calendar of Holidays
The 2018 Recognition Calendar is here! Make a plan to stay ahead of the game this year by checking your Recognition Calendar regularly. We at Terryberry have done all the research for you and have compiled a variety of recognition holidays in a free month-by-month calendar. Download the full calendar as a PDF or browse recognition holidays by month.
National and international days for recognizing specific professions or themes are listed. You'll find well-known days, such as National Boss's Day in October and Administrative Professionals' Day in April, but you'll also find some lesser-known recognition holidays that can be fun to celebrate. For example, have you ever celebrated "Do Something Nice Day" or "National High Five Day"? Maybe this is the year to start some fun festivities and yearly traditions in your office.
January 2018 Recognition Holidays
Ring in the New Year with a spirit of employee appreciation! January can be a difficult month for your employees as they settle back into the routine after all of the holiday festivities. That's all the more reason why you should plan to celebrate some of this month's recognition holidays. "National Motivation & Inspiration Day" comes in first after New Year's Day, falling on January 2. The following week comes "National Clean off Your Desk Day," which can be a great way to start the new year fresh with an organized workspace.  See all of January's recognition holidays here.
Employee Appreciation Day is March 2
Don't let Employee Appreciation Day slip by this year without recognizing your team! Need some inspiration? Check out this for some fun ideas on ways to celebrate.
Recognition is for Every Day
Don't forget that recognition and appreciation are for every day of the year, and unlike trends, fads, or some of this year's holiday gifts, they never go out of style. Terryberry can help you get started creating your recognition program today.